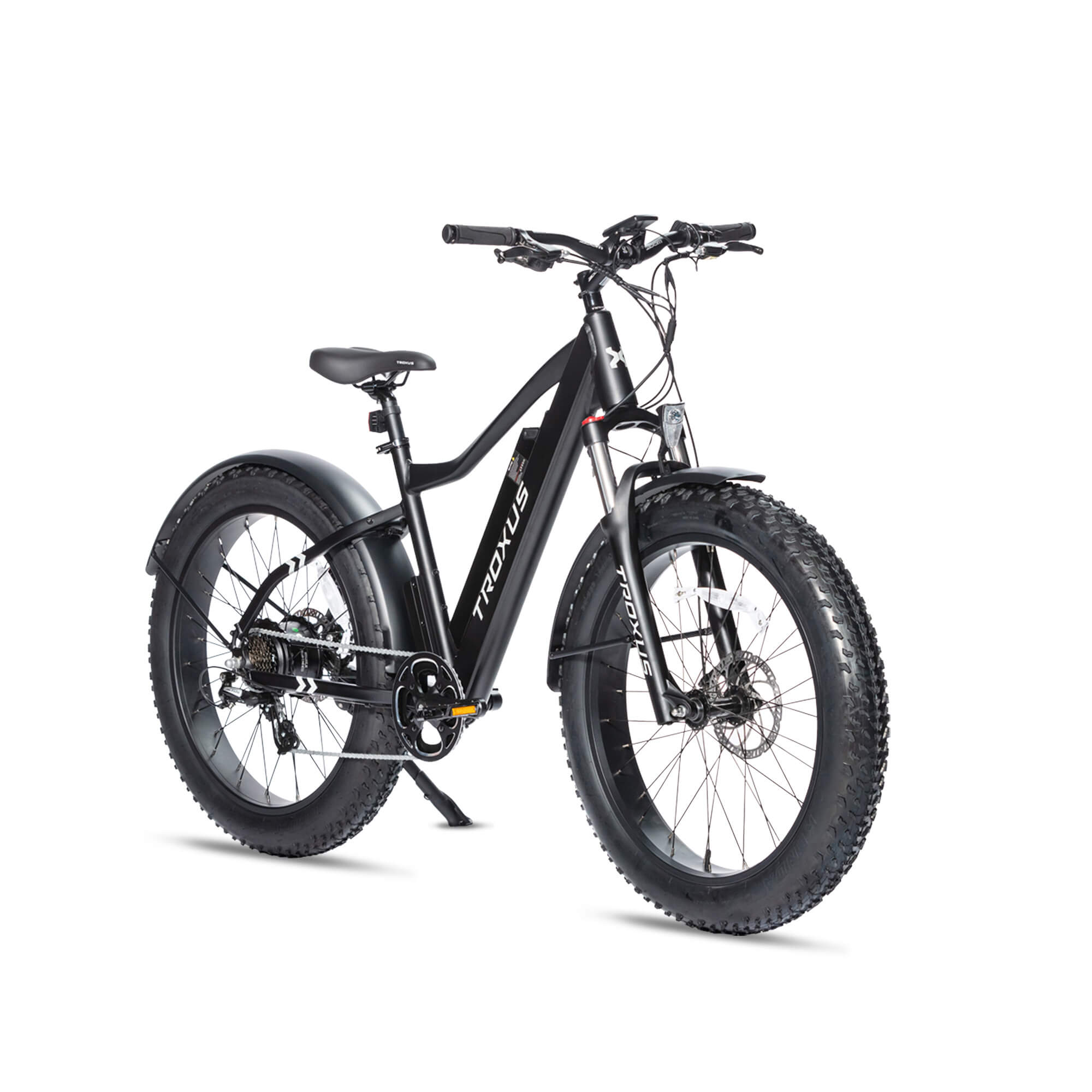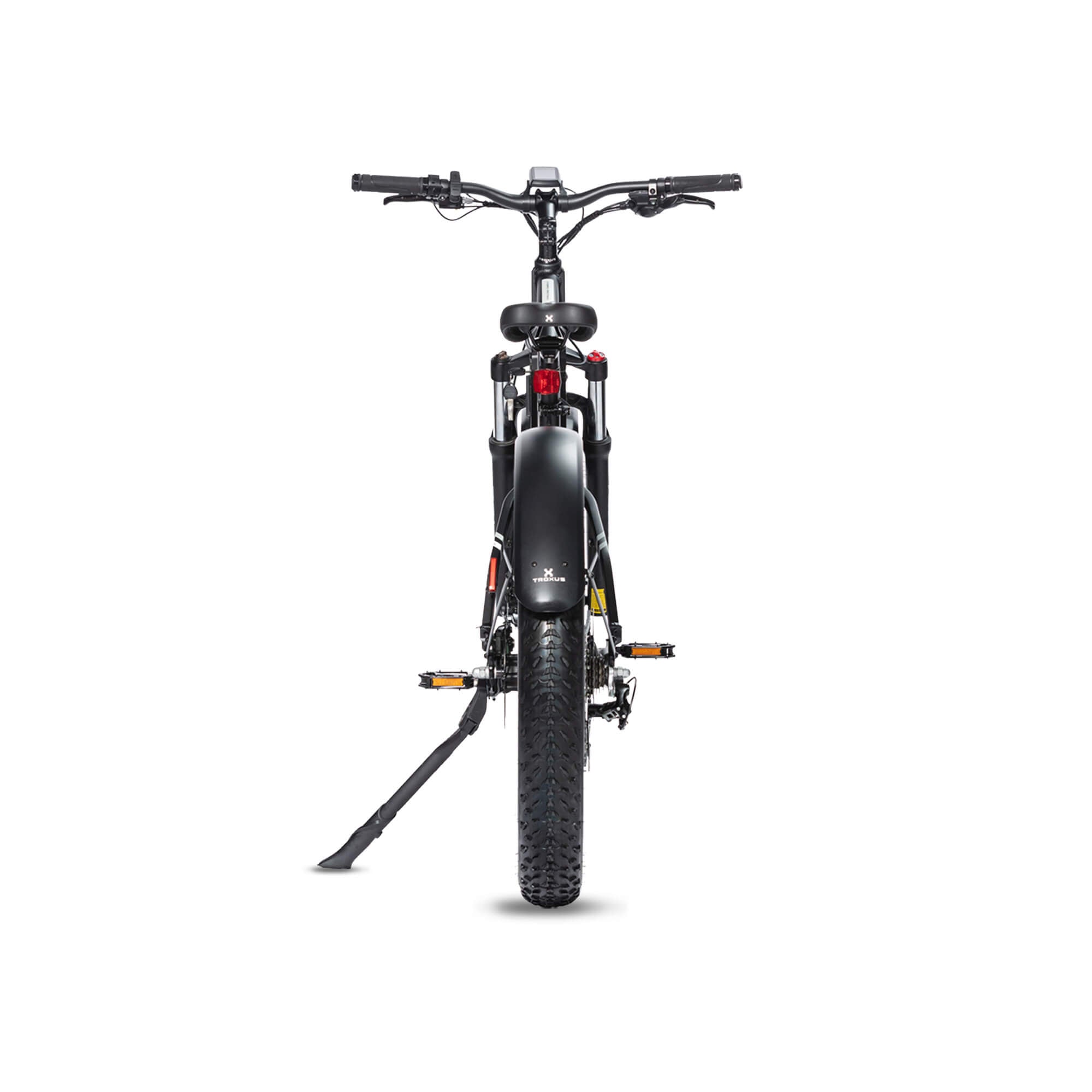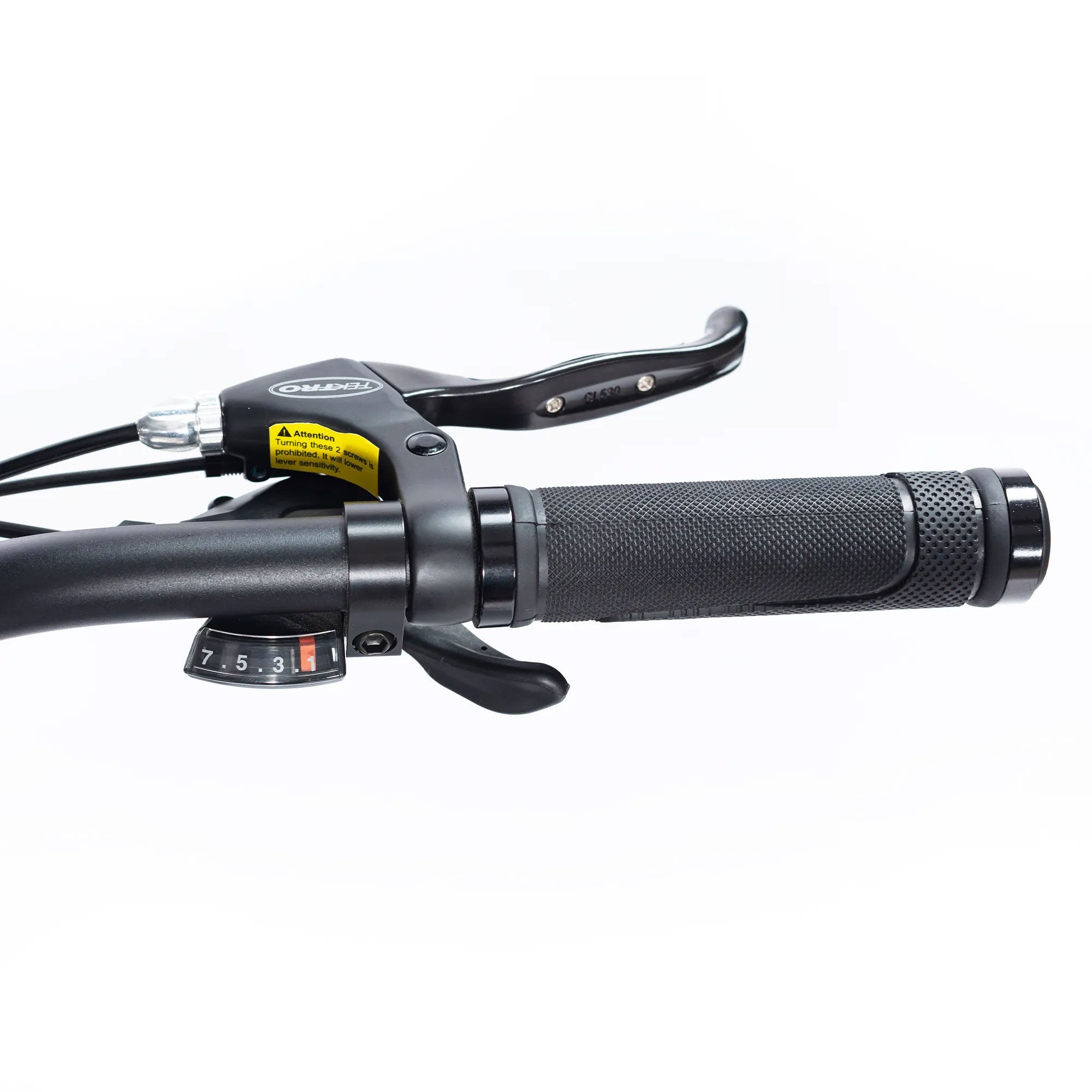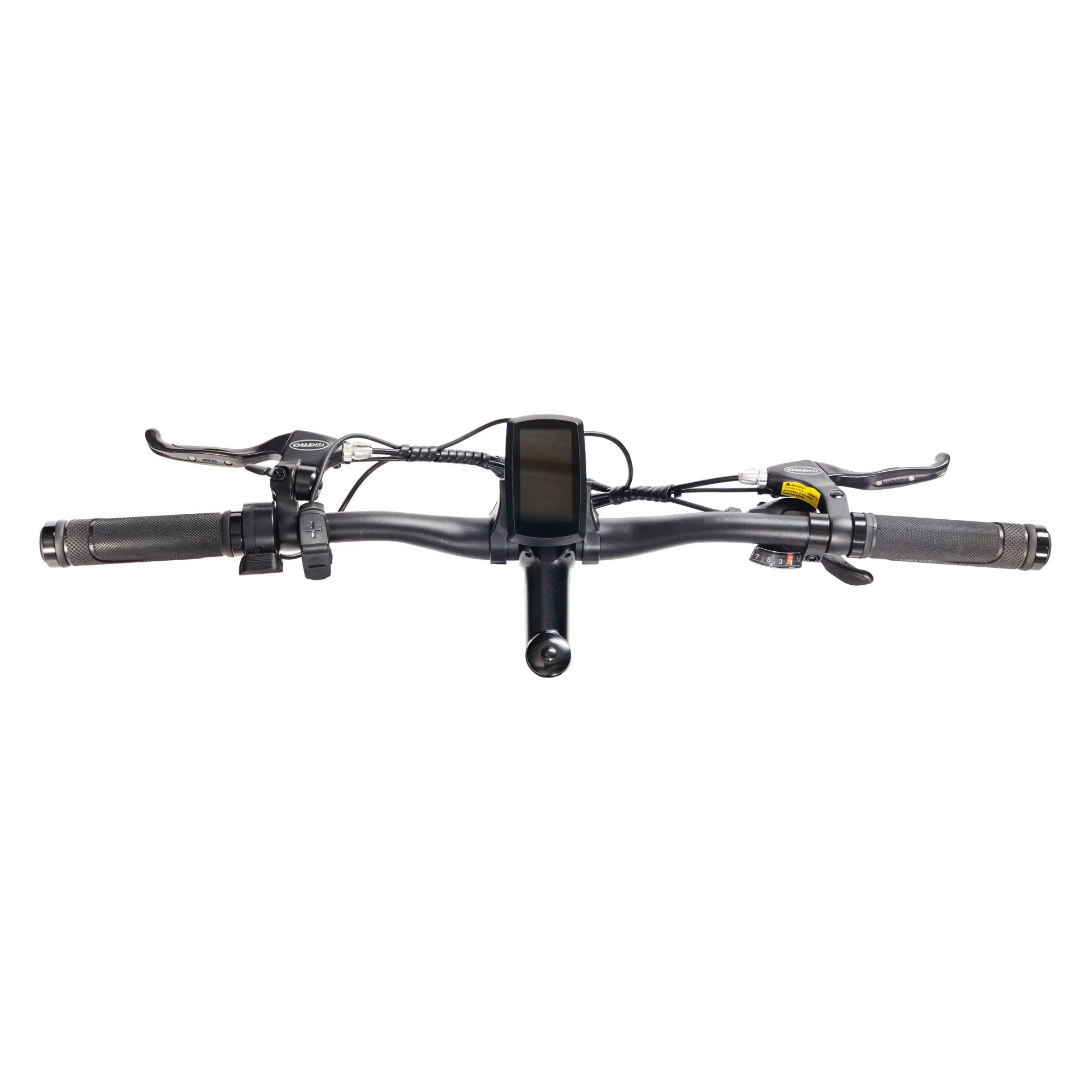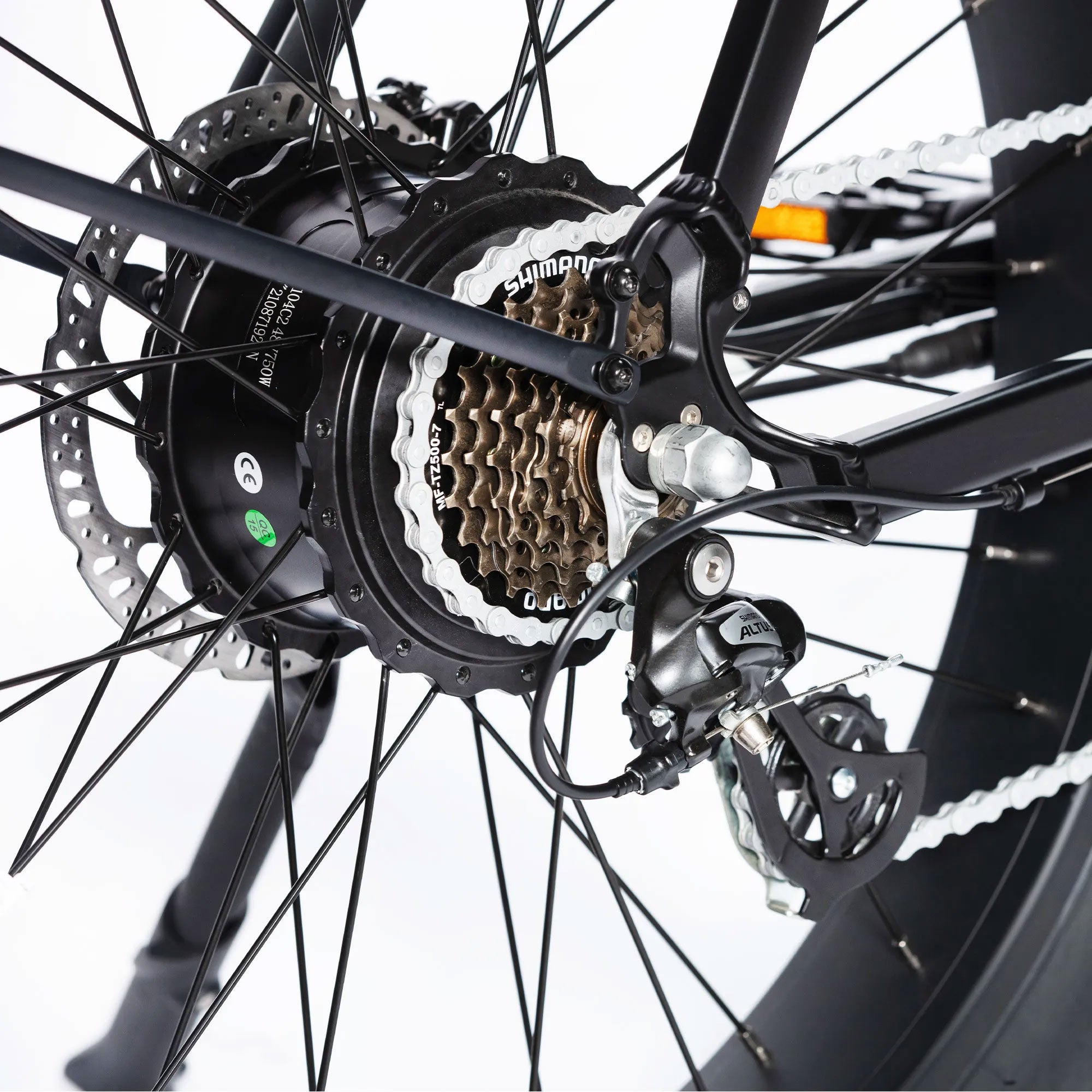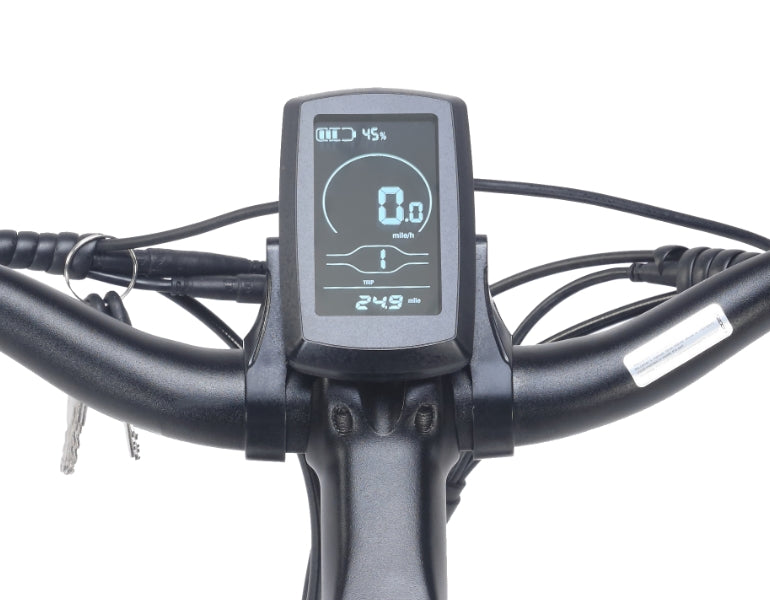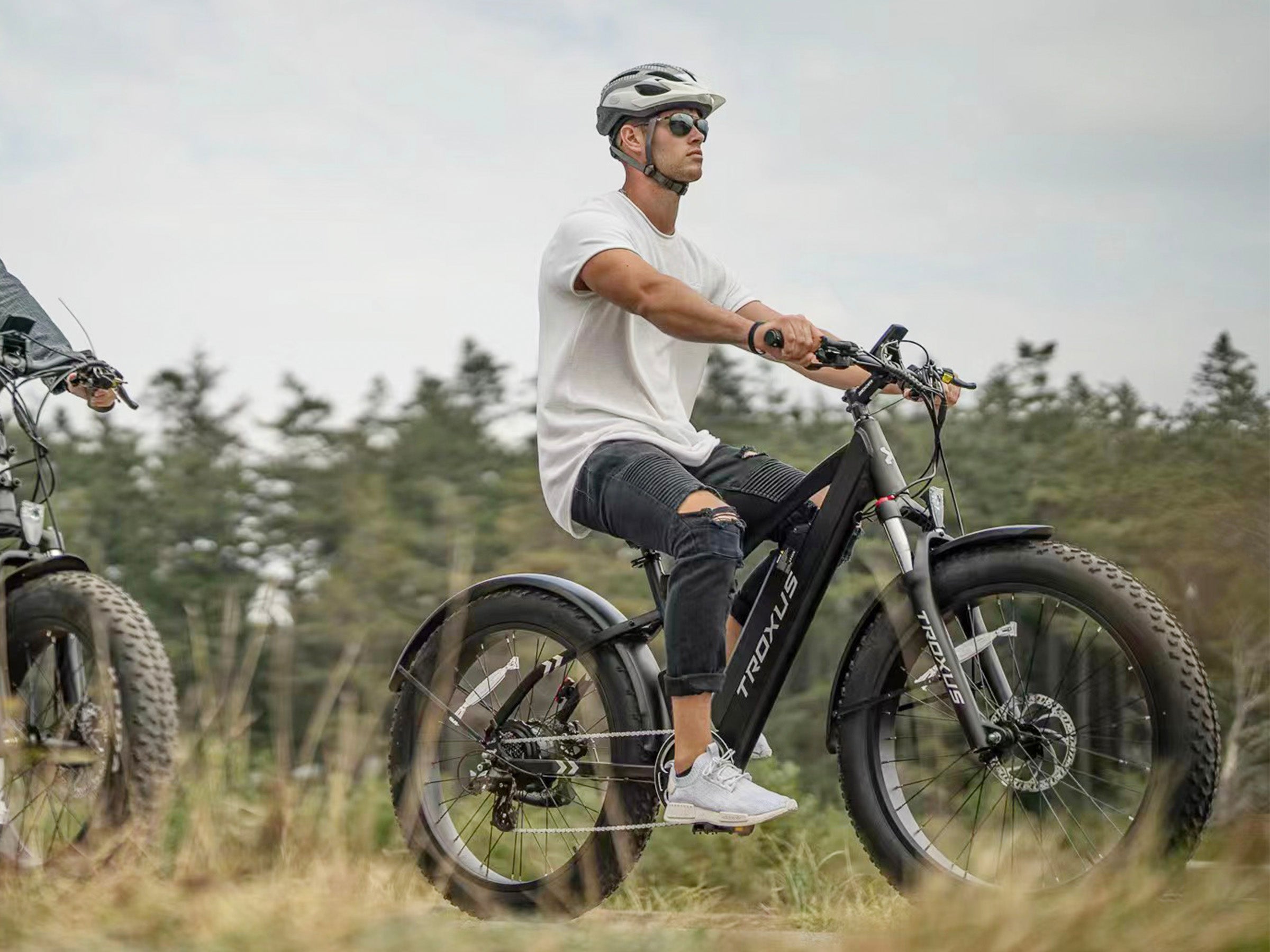 Vulcanus 26" E-bike
Interest-free installments: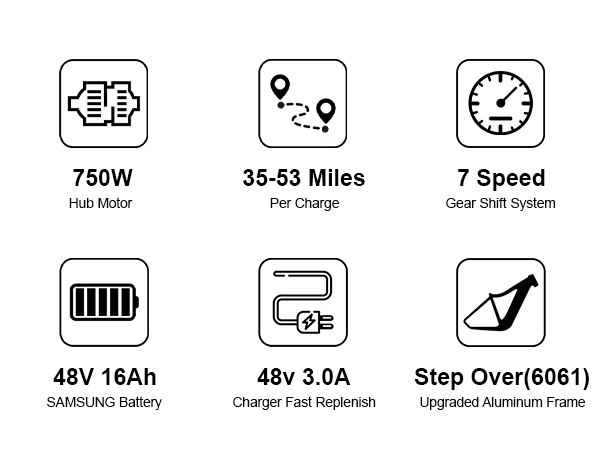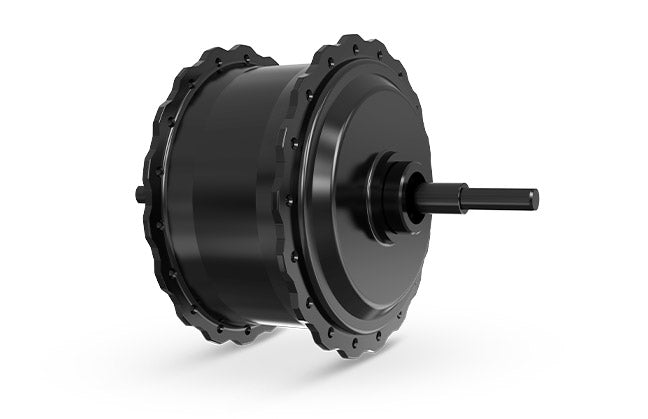 Powerful 750W Rear Hub Motor
The internally geared brushless hub motor can output torque up to 80NM with high motor efficiency. With highly responsive thumb throttle operation, the max speed can reach up to 26mph, which lets you climb high terrains confidently.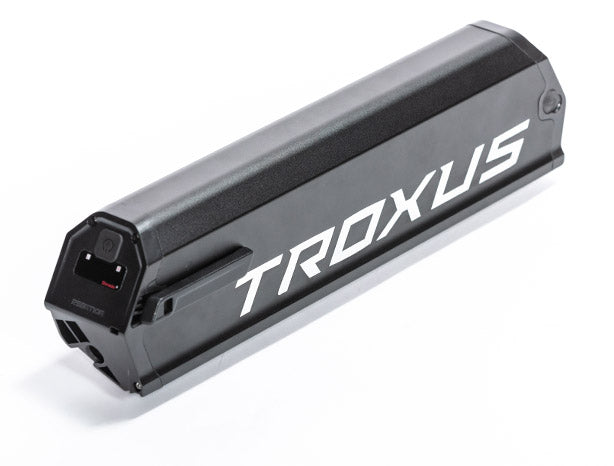 48V 16A Lithium-ion Battery with 
SAMSUNG Cells
It is removable and quickly charged at home or work with any standard outlet. Strict testing results prove that the charging and discharging of batteries keep them stable even in extreme environments.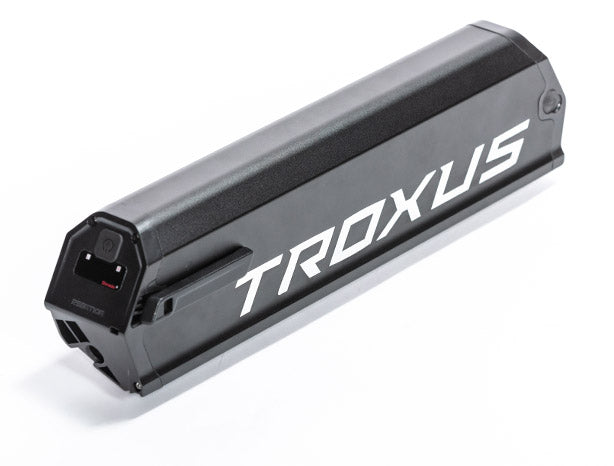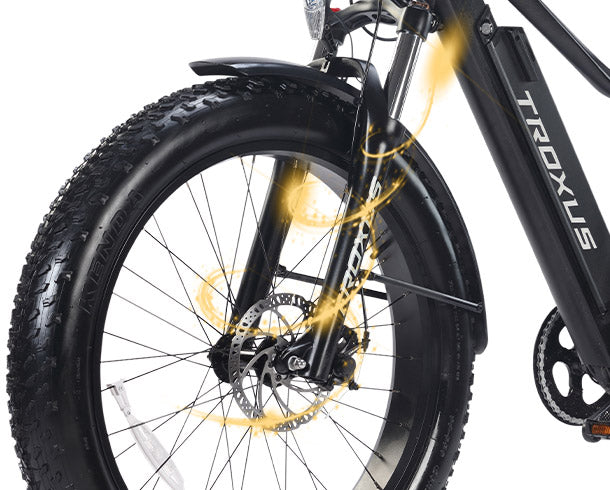 Adjustable Suspension Fork
The Vulcanus is equipped with an 80mm travel adjustable suspension fork. The riders can close or open the suspension to enjoy the best riding experience with different terrains.
increase compression damping
and improve pedalling efficiency
increase compression damping
and improve pedalling efficiency
Reduce compression damping
and improve riding comfort.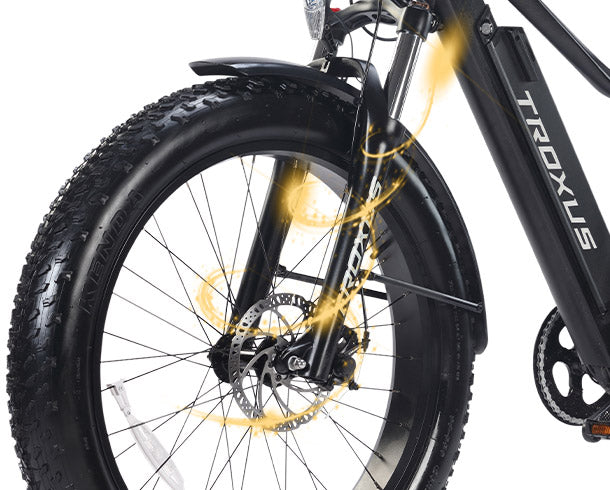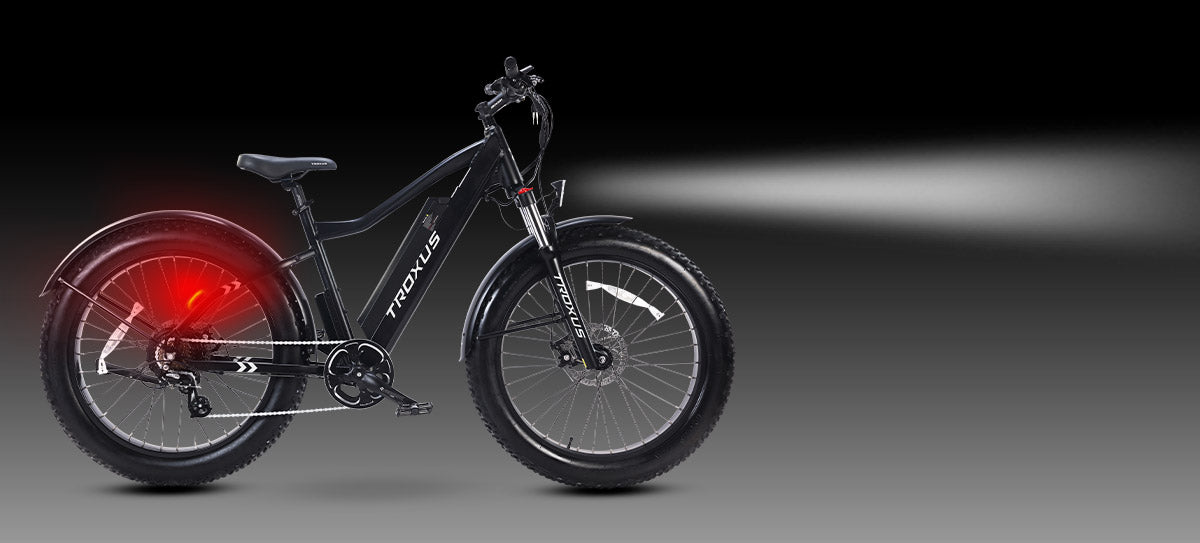 Light Up For Safety
The Vulcanus series has two sets of lights at the front and rear, and the taillights support the double flashing effect when braking so that people behind you can see you for the first time.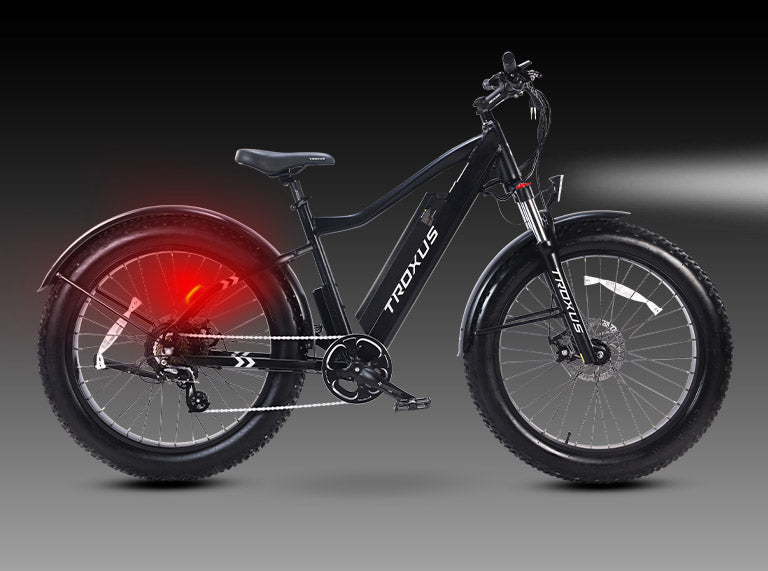 High-end Quality Components
Strong Frame
Aircraft-grade aluminum alloy frame with a 300,000 fatigue test ensures the frame can handle more weight and pressure.
Shimano 7-speed Shifting
Classic Shimano 7-speed shift system offers more freedom under the suitable freewheel under the different riding conditions, it will improve the riding efficiency.
TEKTRO® MECHANICAL DISC BRAKE
Smoothly brake with quick response and rapid heat dissipation.
Suspension Fork
Alloy front suspension fork has 80mm of travel, preload adjustment, and lockout.
Kenda Fat Tire
Anti-puncture all-terrain tire improves traction, reduce road noise, and increase stability for both on-road and light-duty off-road riding
Integrated Light
Integrated bright lights make it safer to travel at night at help you to see where you are going during bad weather and low visibility.
Aluminum Crankset
Aluminum crankset guards provide further protection to the chain.
Full Fenders
Sturdy and huge fenders can effectively reduce the situation of sand and mud splashing and soiling the bike and the rider's clothing.
Comfortable Saddle
Troxus E-bike provides excellent support on your sit bones with less pressure.
Adjustable Seat Tube
Very friendly to riders of different heights
Adjustable Kickstand
Support height adjustment, adapt to the support requirements of different terrain conditions
Waterproof Wiring Harness
The wiring harness of the whole vehicle is waterproof, which improves the performance requirements of the whole bike.
Best Fit Height For : 5'7"-6'10"
ON THROTTLE
RANGE:
27 Miles No Pedaling
ON PEDAL ASSIST
PAS LEVEL
1
SPEED:10.3MPH
RANGE:46Miles
2
SPEED:14MPH
RANGE:45Miles
3
SPEED:18MPH
RANGE:33.8Miles
4
SPEED: 23MPH
RANGE:36Miles
5
SPEED:26.5MPH
RANGE:33Miles
Speed & Range testing was calculated using a rider weight of 180lbs on 80% flat terrain
THROTTLE
Throttle on demand-throttle from a complete stop
SPEED
Up to 20mph on Throttle. Can be adjusted to up to 26MPH on Pedal Assist
BATTERY
Removable Internal Lithium-ion 48V, 16Ah (768Wh)with Samsung cells
FRAME
6061 Aluminium alloy
PEDALS
9/16'' Alloy Platform
FORK
Aluminum Alloy, Suspension Fork
WEIGHT LIMIT
Standard Weight Limit 275LB
Maximum Weight Limit 353LB
KICKSTAND
Included, Rear Mount
BOTTOM BRACKET
Square Taper,Sealed
REAR DERAILLEUR
Shimano 7 speed
CASSETTE
14-28T, 7 Speed Cassette
BRAKES
Tektro M280 Mechanical disc brake
RIM
Front: Single Wall Aluminum 36h
Rear: Double Wall Aluminum 36h
SPOKES
Front wheel: black stainless 13 Gauge
Rear wheel: black stainless 12 Gauge
SEATPOST
Forged Alloy, 30.4*300mm
HANDLEBARS
Aluminum 31.8mm, 680mm
HEADSET
GINEYEA Sealed Bearing Headset
PACKAGED
Above all accessories are included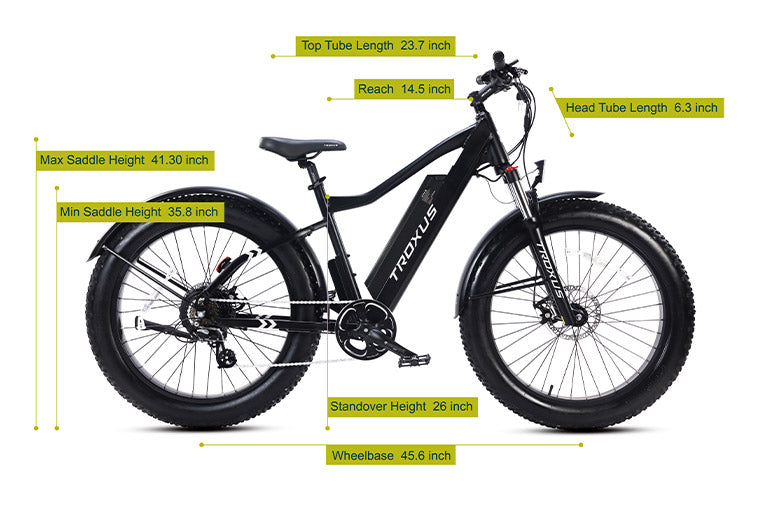 | | |
| --- | --- |
| Frame Size | Standard (inch) |
| Top Tube Length | 23.7" |
| Reach | 14.5" |
| Head Tube Length | 6.3" |
| Standover Height | 26" |
| Wheelbase | 45.6" |
| Min Saddle Height | 35.8" |
| Max Saddle Height | 41.3" |
Order and Payment
It doesn't take a long time to ship. And diffrent place has diffrent delivery time.
Returns and Refunds
Yes, we provide a 15-day return policy and a two-year warranty. If you are not satisfied with the product, you can return it within 15 days. Please NOTE that for a return, it's important to ensure that the original packaging is in good condition, and the riding mileage should not exceed 10 miles. For more detailed warranty information, please refer to the product page, or feel free to contact our customer support team for assistance.
Product/Service-Related
The battery range varies depending on several factors, but typically, you can travel 30 to 60 miles on a single charge. Please note that riding conditions, speed, and payload can affect the range.
It is recommended to keep the tires inflated, lubricate the chain, and perform periodic brake checks. Additionally, the battery should be charged and stored properly to maintain performance. For more information, you can check out our Help Center.
In most areas, a driver's license or registration is not required to ride an e-bike, but regulations vary by region. Please check the regulations in your area before making a purchase.
The battery can be charged by plugging the provided charger into a standard electrical outlet. Charging time depends on the battery capacity and its current state, but typically takes several hours.
Yes, we offer a variety of accessories and upgrade options, such as front baskets, rear racks, lights, locks, and more, to cater to different riders' needs.
Yes, it is IPX5. But it's not suggested to ride in the rain.
You can find information about recommended rider heights on our product details page. Additionally, we offer free test rides at our physical locations. You can find the specific test ride locations on our 'test ride' page.
Amazing
This is definitely one of the top bikes I've gotten so much out of it. I am very pleased. Handles very well. Any dirt rocks you name it comes through with the winning colors
Honest review
Don't run out of battery pulling a wagon of kids on hills lol. Other than that this bike is dope. Got it for myself and it didn't take long for my wife to steal it. She hauls the kids around with ease while I ride my electric longboard, even up some pretty steep hills. Just keep an eye on that battery. The battery lasts an insanely long time on pedal assist. If you ride a couple times a week this battery literaly lasts me a acouple months between charges. Id say the stated range is very accurate. I can also ride no hands comfortably up to 20mph then it can get a little shakey. So its well balance conidering the size of the tires. This bike is foreal awsome and gets lots of double takes by people. Th only negative I can give is its a little heavy so stopping on hills can be a little rough to get that first pedal turn in, but once the motor kicks in half a turn in it takes over and does all the work. Very satisfied. Regular kids bike trailer hooked up fine and pulls it no problem. Definitely recommend this bike, especially if you catch it on sale like I did. But even so worth reg price. I would recommend adding a small electric horn to newer models but the bell is ok. Thanks for paying good attention to quality Troxus!
decent price and quality, recomended
i like my E-bike, i got Vulcanus, i can advise some upgrades after thausands miles mileage, in general it works.
Solid
Very good solid bike. No problems for the first 200 miles. Lots of fun and good exercise if you want it to be.
Great bike for the money but can use a few small improvements.
Hi, overall I highly recommend this bike to anyone. I do have a first generation Vulcanus that seems to have a more powerful motor and is able to be programmed to go faster. I wish the new one had the same performance. Also, another gear would be very welcome to allow pedaling at a faster speed.
It seems as there was a small frame change that will not allow a water bottle cage to be used on the seat post as on the old one. The headlight needs to be improved. It is not bright enough and has to be modified to be aimed low enough to shine on the ground. In my opinion the fenders are too big and it would be nice to have a smaller set of partial fenders that look more sporty. A better front fork would be a nice improvement also. The shifters and cable brakes work well and I wouldn't go to a more trouble prone hydraulic setup.