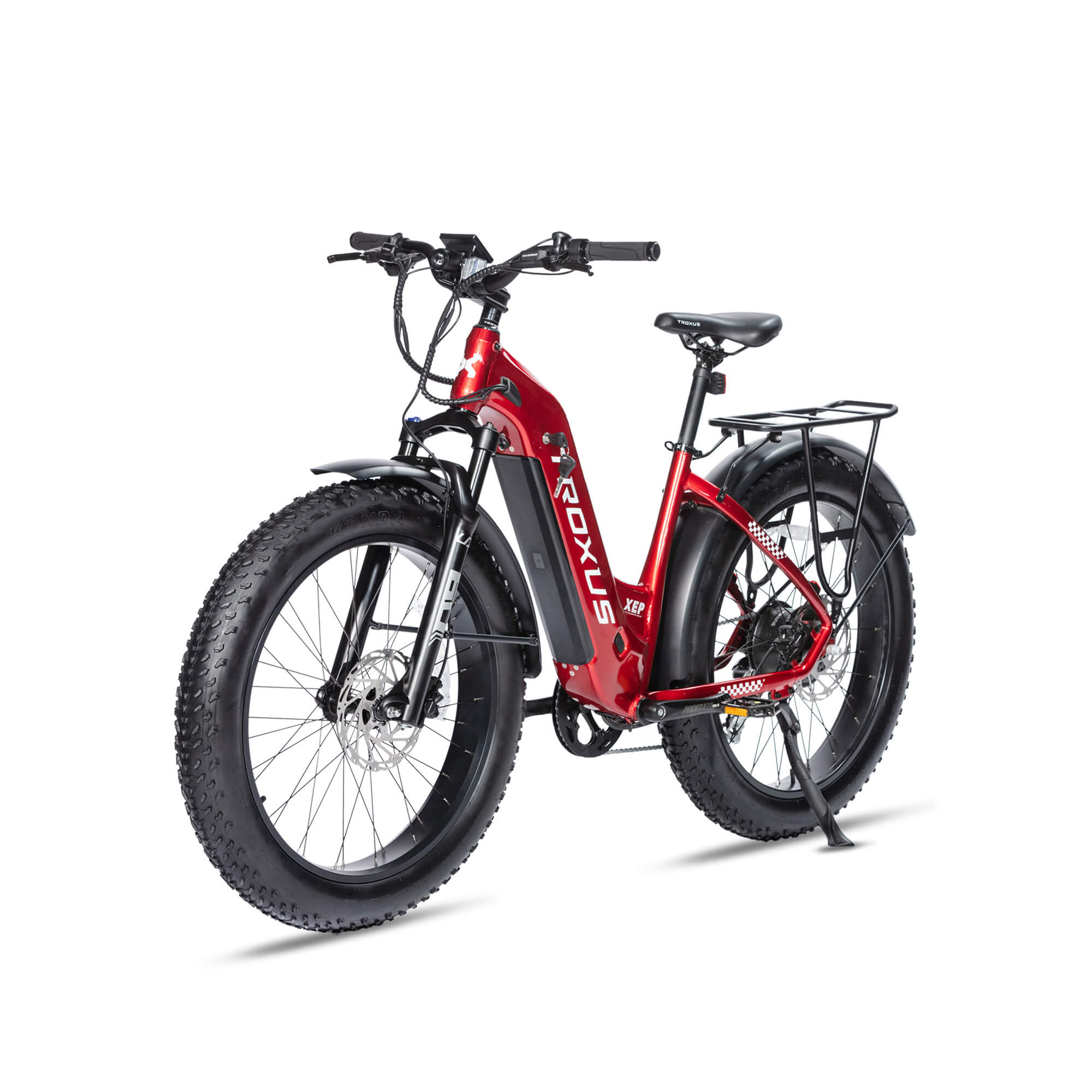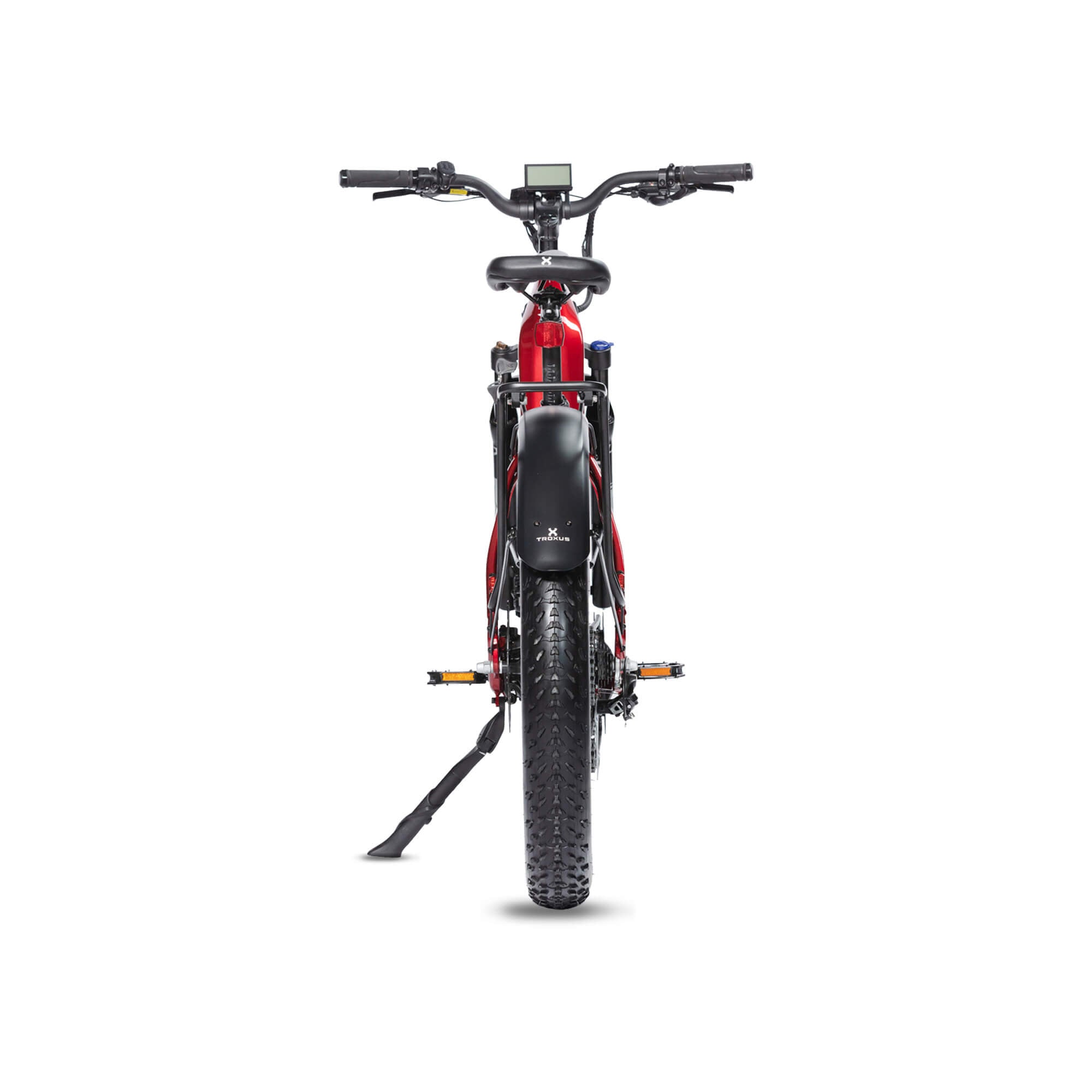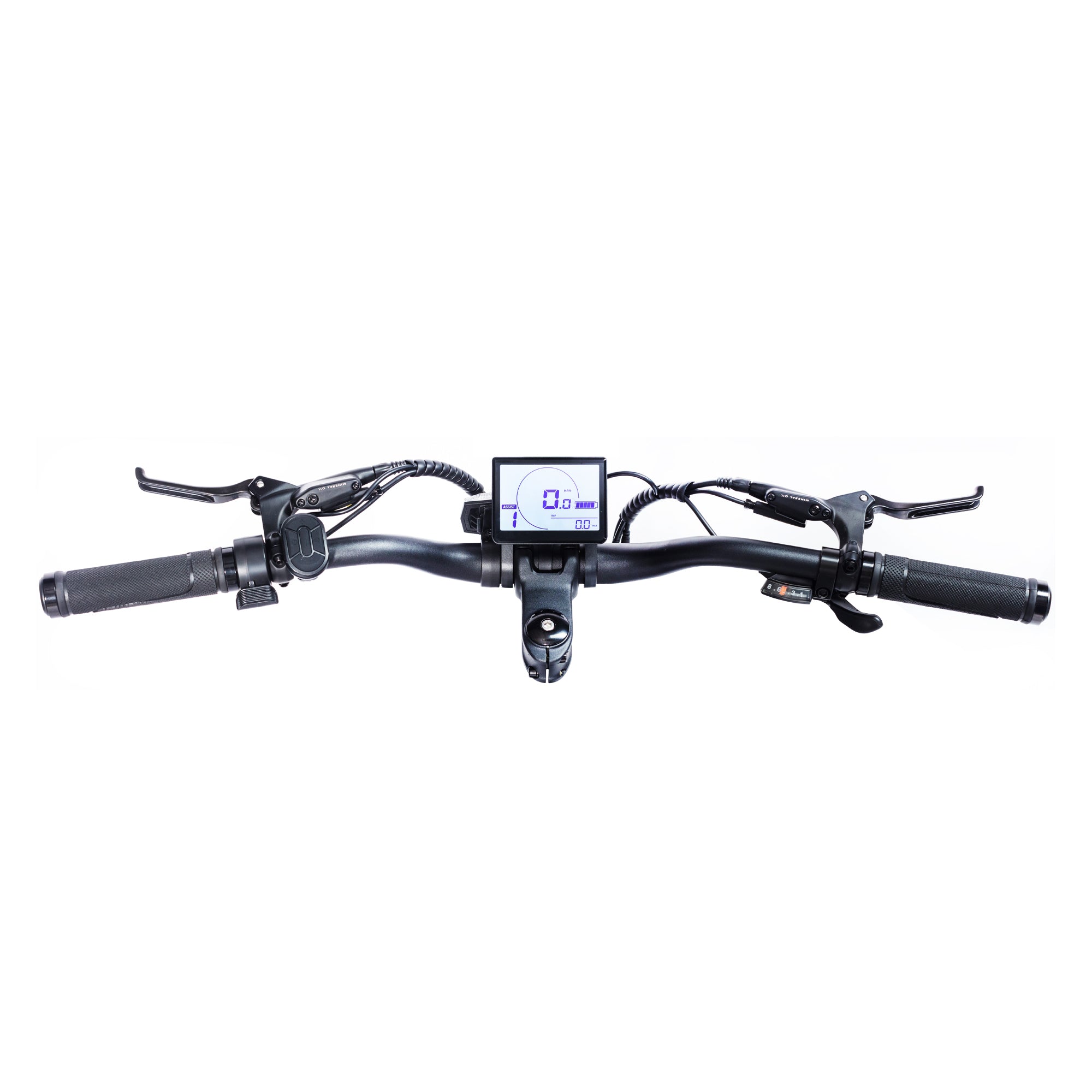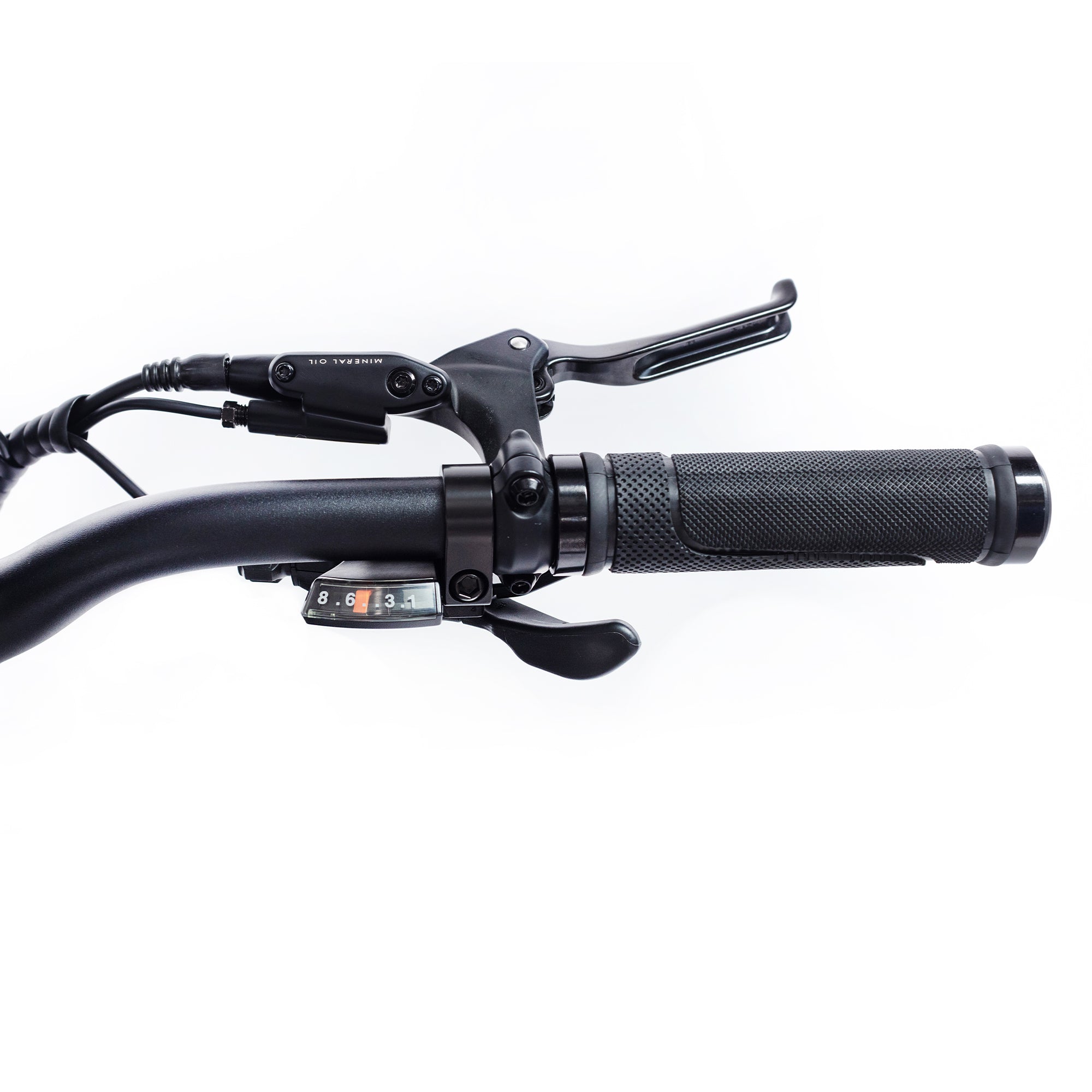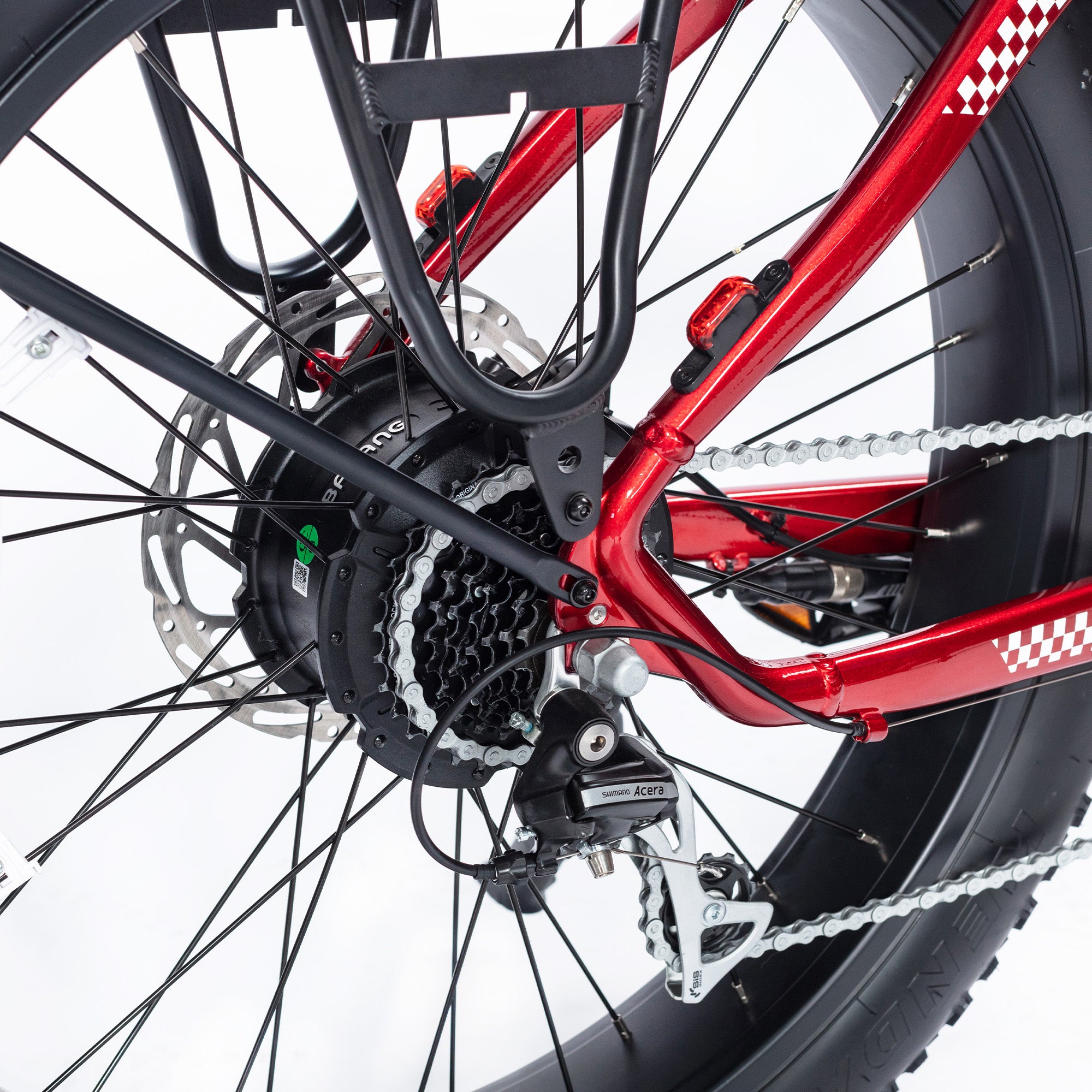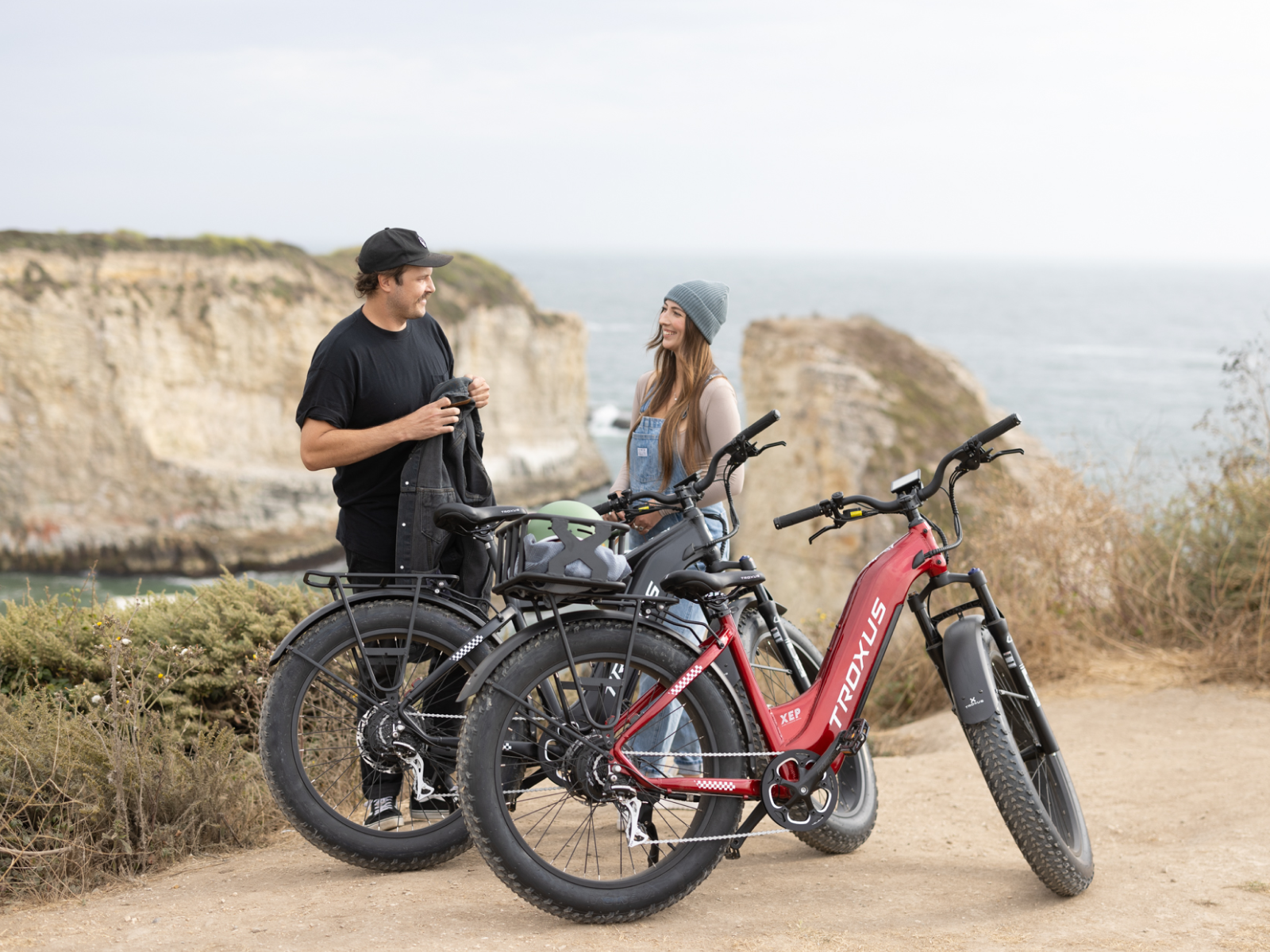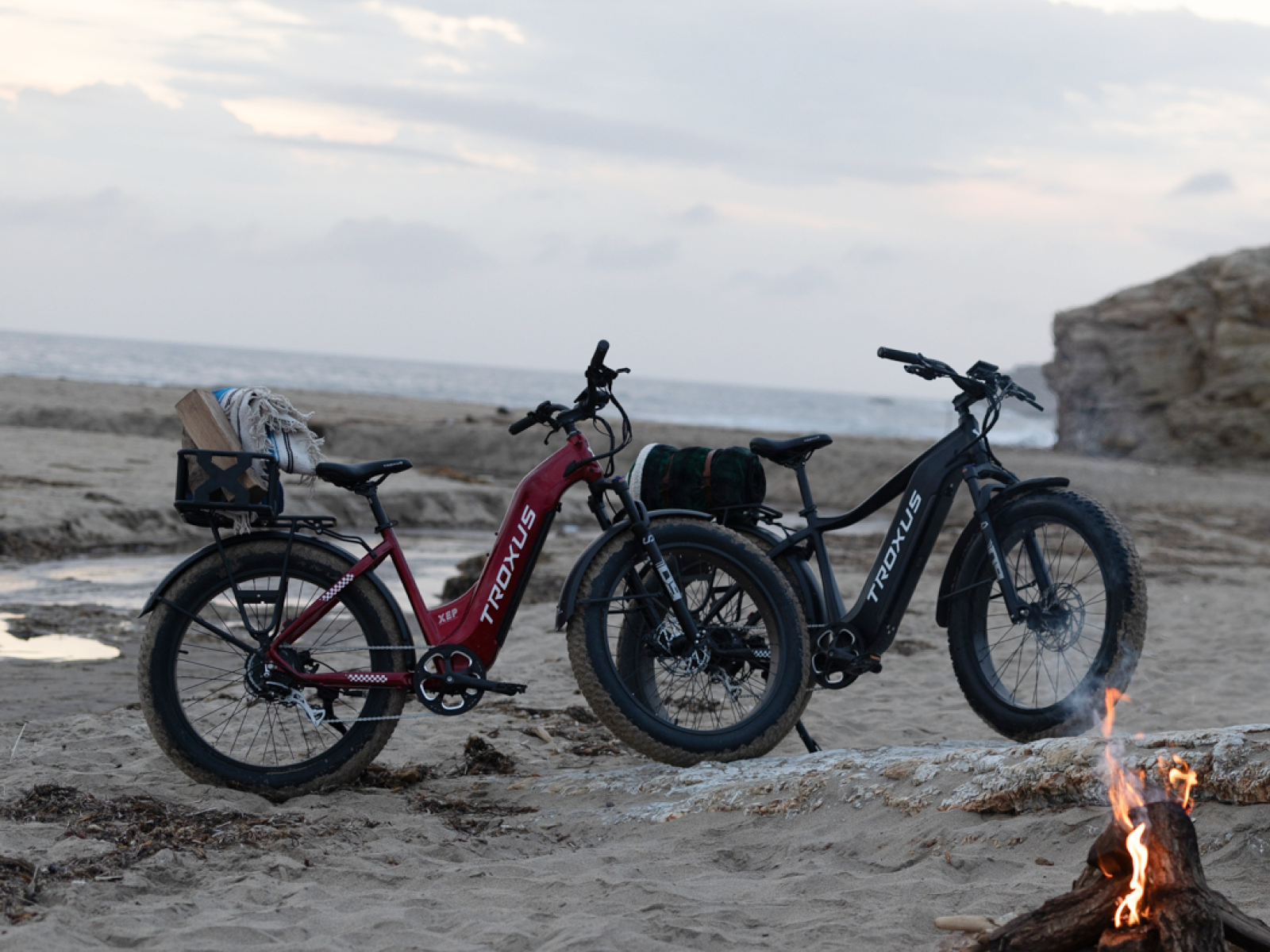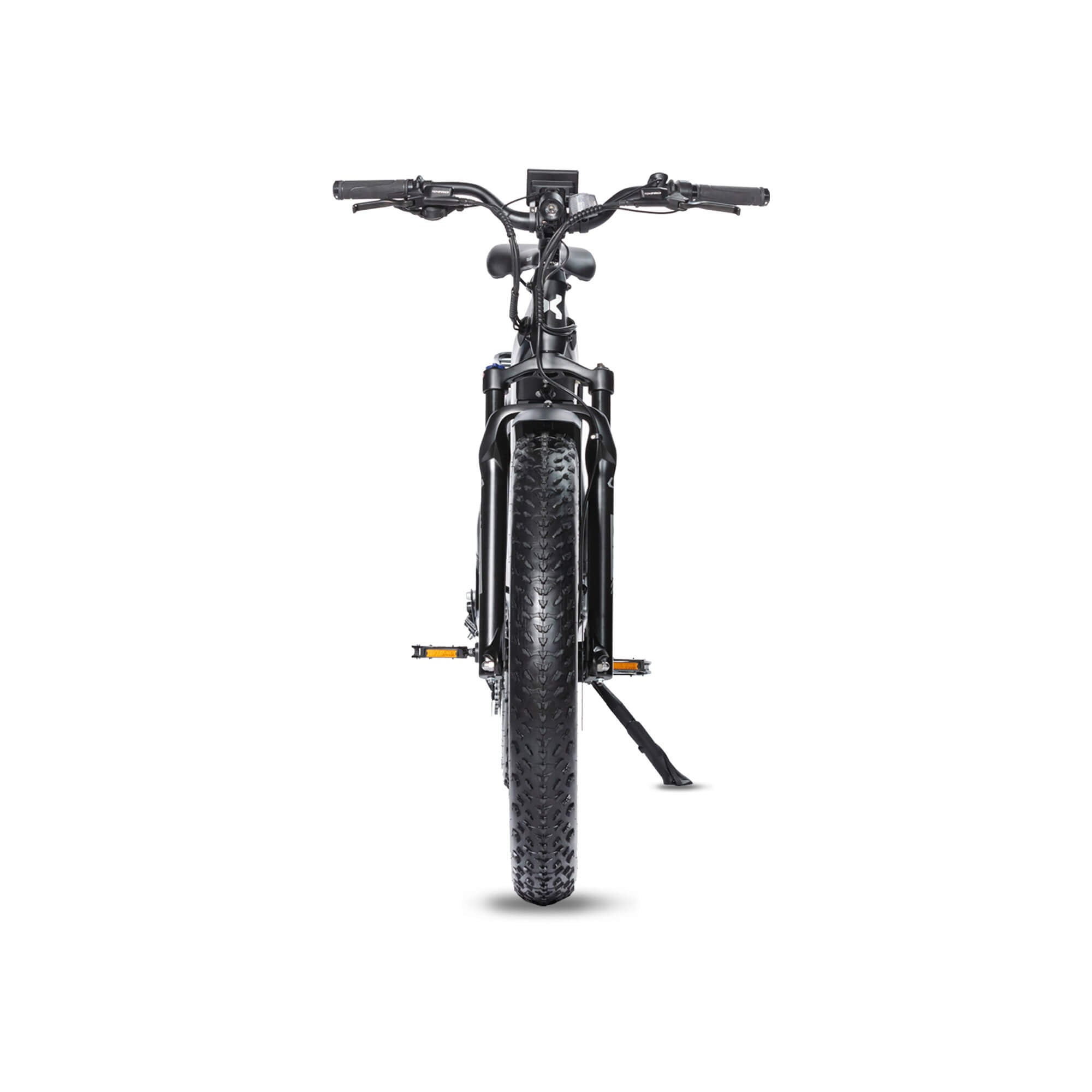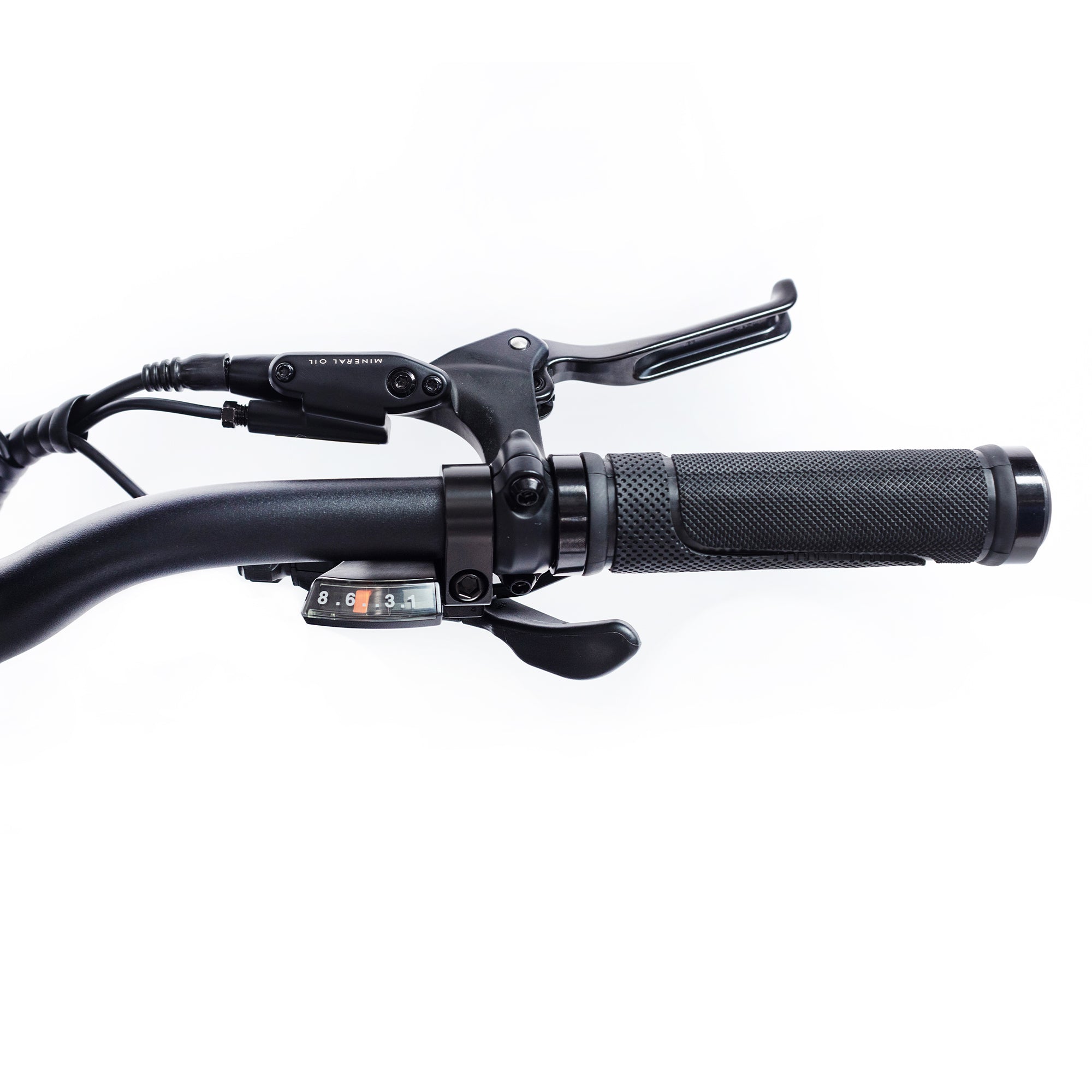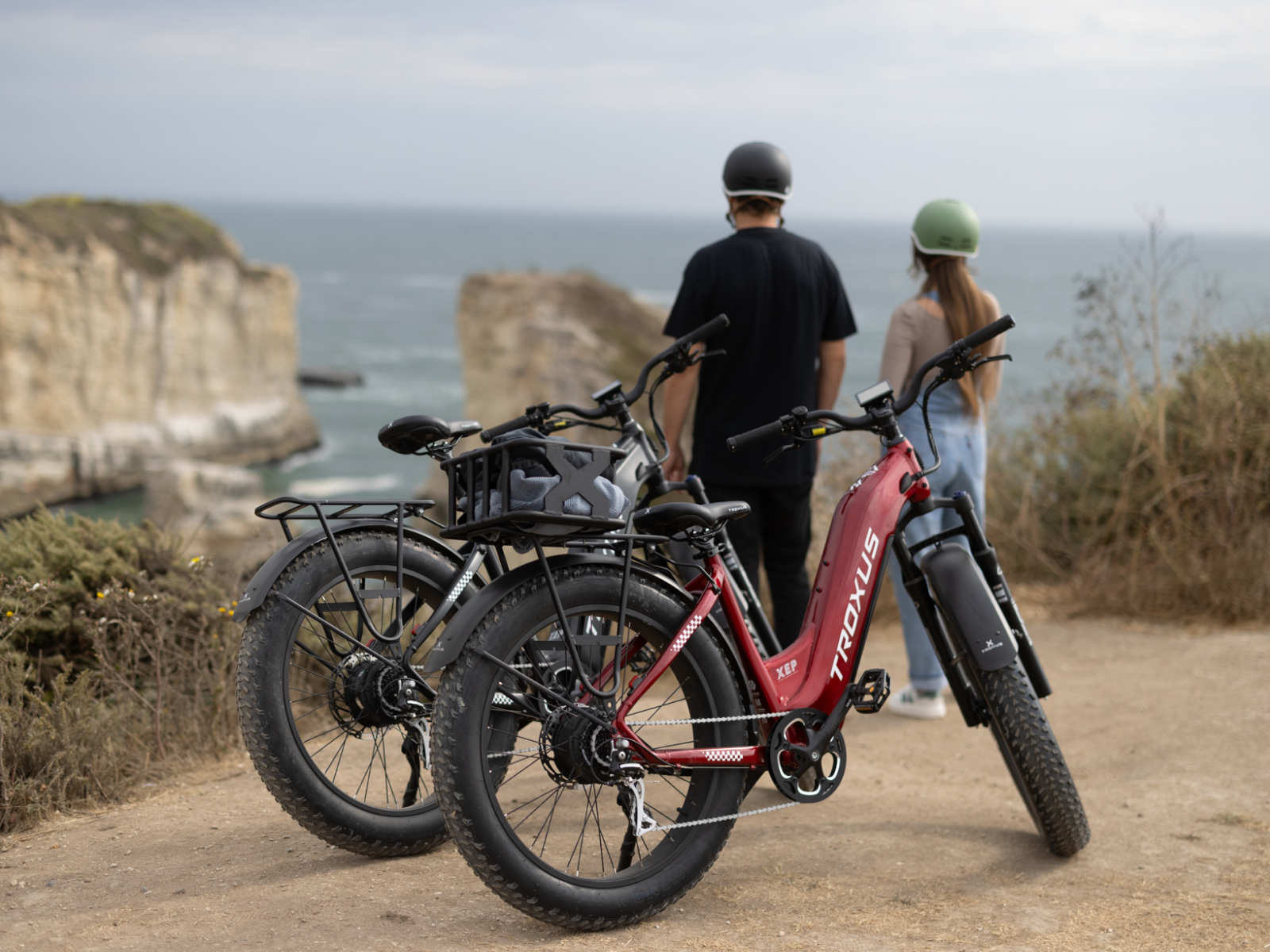 Explorer Step Thru 26" E-bike
Interest-free installments:
Pickup currently unavailable at Troxus Concept Store
Explorer Step Thru 26" E-bike
Red / Explorer Step Thru / Ready to ship
Troxus Concept Store
Pickup currently unavailable
2485 Coral St, Vista CA 92081
Vista CA 92081
United States
+18889058243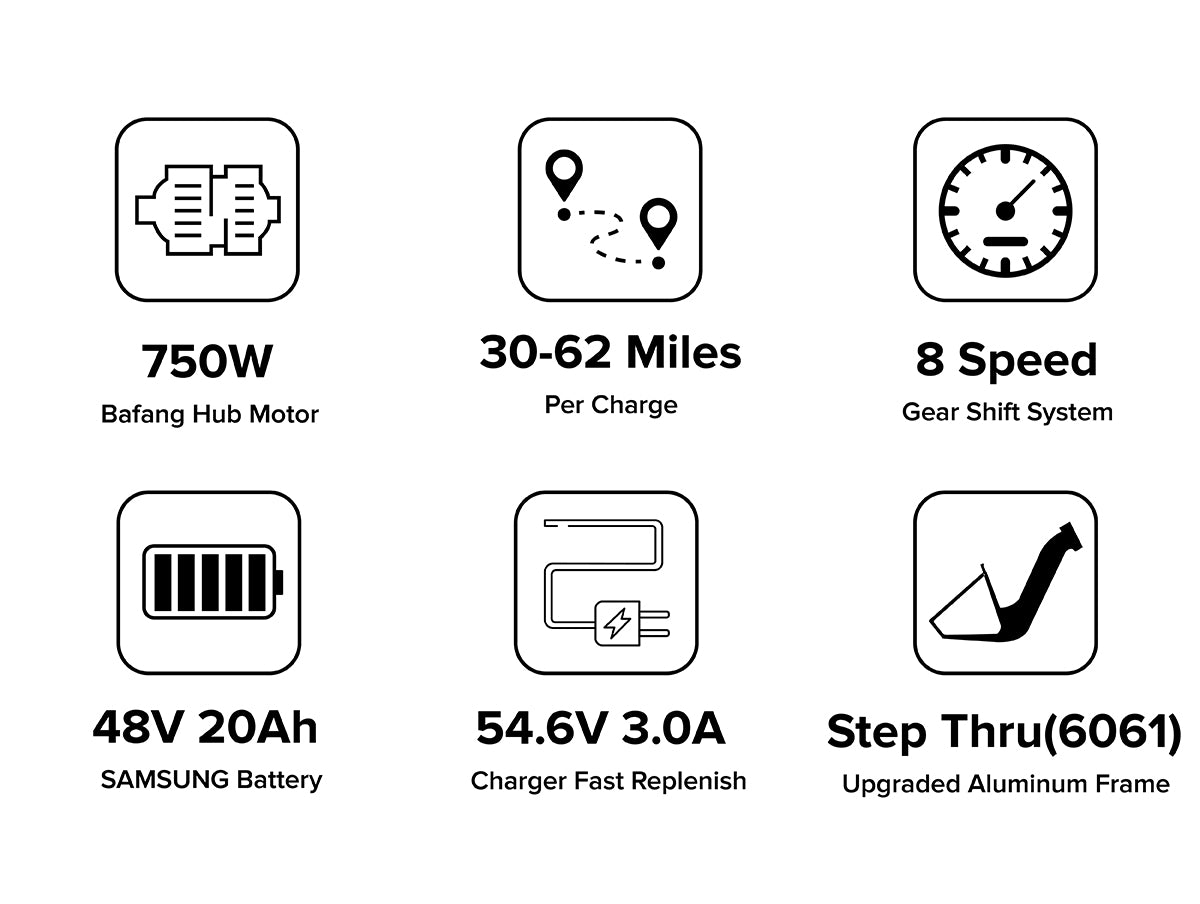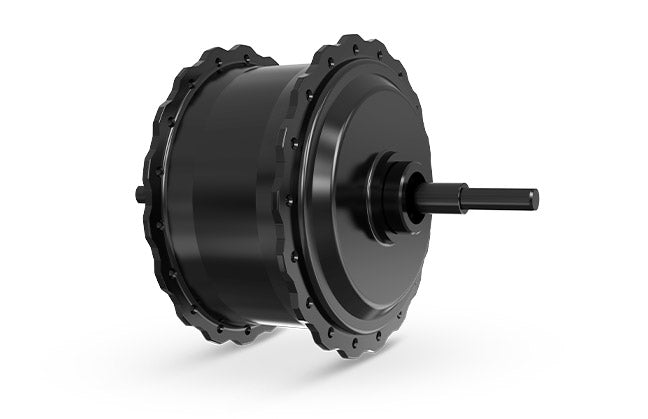 Powerful Bafang 750W Motor
Troxus Explorer series fat tire E-bikes are equipped with the globally recognized BAFANG hub motor. This powerful 750W brushless motor efficiently delivers speeds up to 28MPH with pedal assist. You can enjoy your explorations with increased stability and smoothness throughout the rear hub's power range.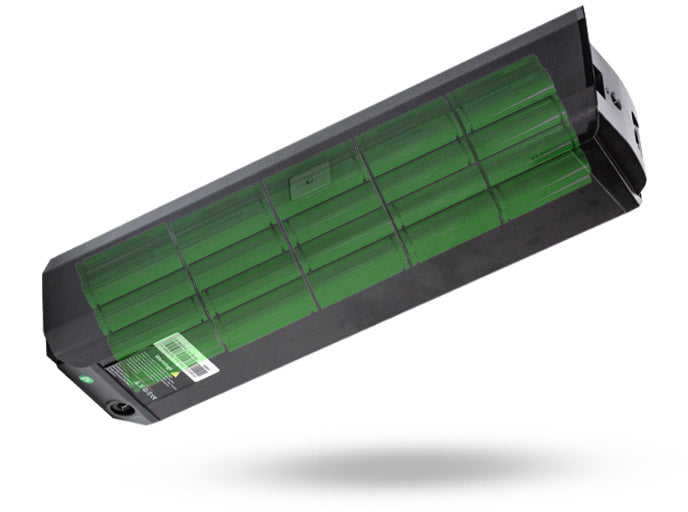 48V 20A Lithium-ion Battery with 
SAMSUNG Cells
The Troxus Explorer series supports your long-distance needs with a high capacity battery. SAMSUNG lithium battery cells provide 60+ miles of range per charge, allowing you to discover more and ride further. These batteries are rigorously tested and are waterproof, so that they can reliably perform in any kind of weather- rain or shine.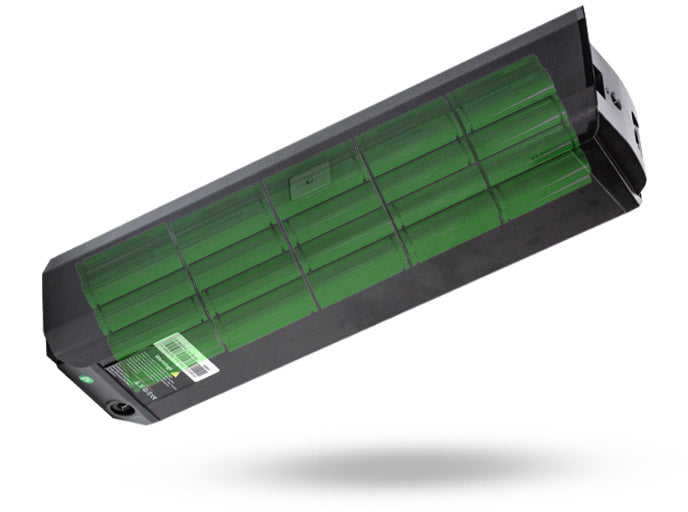 26" x 4.0" Kenda All-Terrain Fat Tires

Troxus Explorer uses specifically designed e-bike fat tires made of extra-elastic rubber with lower pressure for great shock and vibration absorbency. They also provide excellent grip and easily shed mud, dirt, and sand. No matter whether you are riding in the Rocky Mountains or through the soft leafy litter of Yellowstone Park, or in which weather, you can ride without hesitation.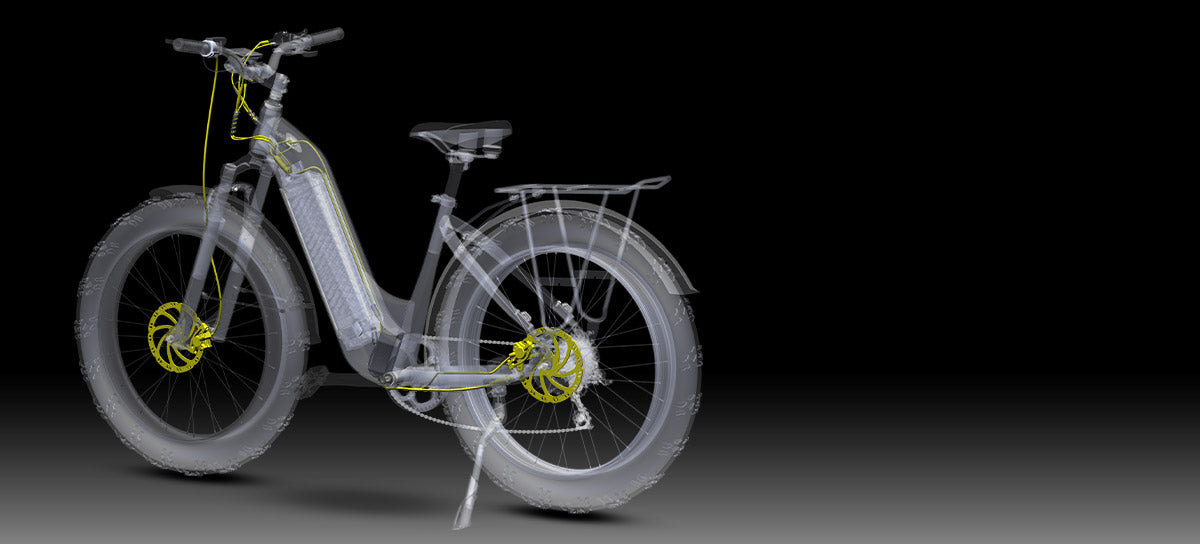 Tektro Hydraulic Disc Brakes
With a dual-diameter opposed piston design, these powerful hydraulic disc brakes have an increased contact area, providing excellent control and confidence in all conditions.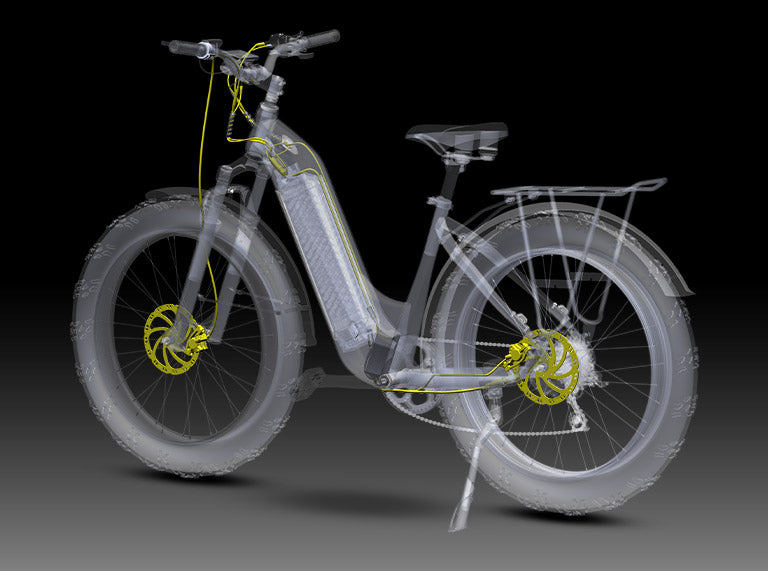 High-end Quality Components
Aluminum Alloy Frame
Lightweight and durable 6061 aluminum frame.
SHIMANO 8 Speed Gear Shift System
The Shimano 8 speed cassette means you can shift to larger gears for uphill riding and smaller gears for higher speeds. Combined with Pedal Assist, you can easily adjust the right speed for your ride.
Smart Display
With Explorer Smart Display you can easily check your stats like Speed, Battery, Assistance level, and Trip Distance. The large backlit LCD display lets you check the info at a glance so you can keep your eyes on the road.
26" Kenda Fat Tires
The Kenda tire casings are made with a layer of aramid and ceramic particles built in under the tread area and along the sidewalls. This material forms a defensive barrier that can provide effective protection against punctures from glass and other small materials. Not only are they durable but they look great too!
Integrated Equipment
The Troxus electric bike is equipped with a rear rack, so that your bike can carry your cargo easily. What's more, you can install a child seat and enjoy riding with your children.
Samsung Battery
A powerful motor needs a great battery and the Samsung 48V/20Ah battery is ready to deliver. It provides an estimated range of up to 60+ miles. This battery is also easily removable and very portable - you can take it with you on mid-ride stops, and thanks to its USB port it can be used to charge your phone and accessories.
Best Fit For Height: 5'4"-6'10"
ON THROTTLE
RANGE:
36 Miles Without Pedaling
ON PEDAL ASSIST
PAS LEVEL
1
SPEED:10MPH
RANGE:65Miles
2
SPEED:15MPH
RANGE:60Miles
3
SPEED:20MPH
RANGE:38Miles
4
SPEED:23MPH
RANGE:36Miles
5
SPEED:28MPH
RANGE:34Miles
Speed & Range testing was calculated using a rider weight of 180lbs on 80% flat terrain
MOTOR
Bafang 48V 750W Hub motor
THROTTLE
Throttle on demand-throttle from a complete stop
SPEED
Up to 20MPH on Throttle and up to 28MPH on Pedal Assist
BATTERY
Removable Internal Lithium-ion 48V, 20Ah (960Wh)with Samsung cells
FRAME
6061 Aluminium alloy
PEDALS
9/16'' Alloy Platform
FORK
Aluminum Alloy, Suspension Fork
WEIGHT LIMIT
Standard Weight Limit 275LB
Maximum Weight Limit 353LB
KICKSTAND
Included, Rear Mount
BOTTOM BRACKET
Square Taper, Sealed
REAR DERAILLEUR
Shimano 8 Speed
CASSETTE
12-32T, 8 Speed Cassette
BRAKES
Tektro Hydraulic disc brake, 180mm Rotors
RIM
Front: Single Wall Aluminum 36h
Rear: Double Wall Aluminum 36h
SPOKES
Front wheel: black stainless 13 Gauge
Rear wheel: black stainless 12 Gauge
SEATPOST
Forged Alloy, 30.9*350mm, 2 Bolt Clamp
STEM
Threadless, 28.6mm, 7 Degree Rise
HANDLEBARS
Aluminum 31.8mm, 700mm
HEADSET
GINEYEA Sealed Bearing Headset
PACKAGED
Above all accessories are included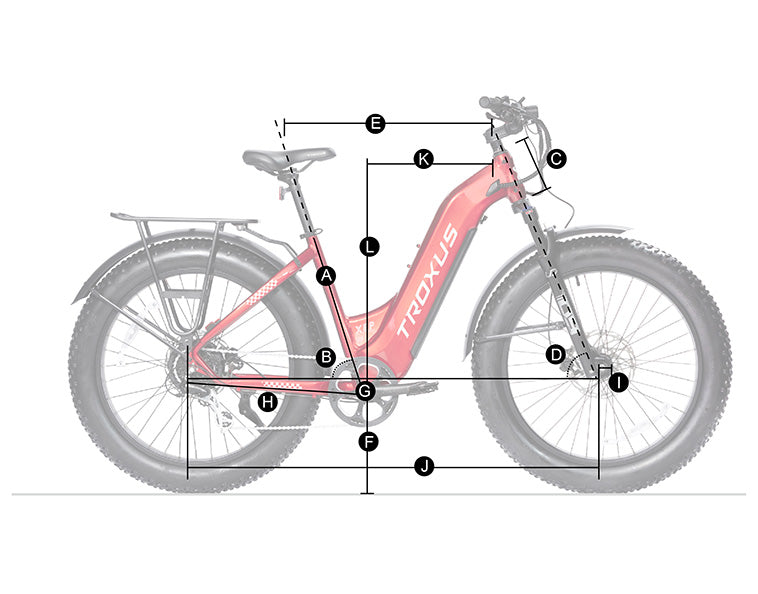 | | |
| --- | --- |
| Frame Size | Standard (mm) |
| Wheel size | 26"*4.0 |
| A ─ Seat tube | 480 |
| B ─ Seat tube angle | 71.0° |
| C ─ Head tube length | 140 |
| D ─ Head angle | 69° |
| E ─ Effective top tube | 595 |
| F ─ Bottom bracket height | 296 |
| G ─ Bottom bracket drop | 70 |
| H ─ Chainstay length | 490 |
| I ─ Offset | 46 |
| J ─ Wheelbase | 1159.3 |
| K ─ Frame Reach | 395 |
| L ─ Frame Stack | 625.2 |
Order and Payment
It doesn't take a long time to ship. And diffrent place has diffrent delivery time.
Returns and Refunds
Yes, we provide a 15-day return policy and a two-year warranty. If you are not satisfied with the product, you can return it within 15 days. Please NOTE that for a return, it's important to ensure that the original packaging is in good condition, and the riding mileage should not exceed 10 miles. For more detailed warranty information, please refer to the product page, or feel free to contact our customer support team for assistance.
Product/Service-Related
The battery range varies depending on several factors, but typically, you can travel 30 to 60 miles on a single charge. Please note that riding conditions, speed, and payload can affect the range.
It is recommended to keep the tires inflated, lubricate the chain, and perform periodic brake checks. Additionally, the battery should be charged and stored properly to maintain performance. For more information, you can check out our Help Center.
In most areas, a driver's license or registration is not required to ride an e-bike, but regulations vary by region. Please check the regulations in your area before making a purchase.
The battery can be charged by plugging the provided charger into a standard electrical outlet. Charging time depends on the battery capacity and its current state, but typically takes several hours.
Yes, we offer a variety of accessories and upgrade options, such as front baskets, rear racks, lights, locks, and more, to cater to different riders' needs.
Yes, it is IPX5. But it's not suggested to ride in the rain.
You can find information about recommended rider heights on our product details page. Additionally, we offer free test rides at our physical locations. You can find the specific test ride locations on our 'test ride' page.
Explorer step thru
I have been an avid outdoor person for as long as I can rememten years ago I was hurt and lost some of the use of my right leg. One of the things I wanted to do most was get back outdoors this bike has allowed me to do this. Customer service has been great to deal with on some minor issues Customer service has been great to deal with on some minor issues. I would recommend this bike to my friends and family To anyone who wants to get back outside. It is a well built sturdy bike It is a well built sturdy bike. I live in Pennsylvania so we have hills and valleys as soon as we go out the door With this bike I am able to ride the Amish country side Again.
Troxus Explorer 26" FT
I bought this bike after watching several e-bike reviews on YouTube. I highly recommend doing this if you cannot find a dealer where you can test ride before purchasing. Also, you should understand your mission for use. I needed a bike that would be good on trails, especially sandy beach areas as this is where I live. Some smaller hill climbing, but generally flat riding. Long rides or or just cruising around your neighborhood? A few things to know about the Explorer model:
• It's a large bike and quite heavy. It's also very stable and has excellent handling for a larger bike, even at slower speeds. My wife can handle this bike easily with the seat in the lowest position. She also stays in levels 2-3 when riding.
• It's very fast, 28-32mph….and it gets there before you know it. This speed may not sound fast in a car but, on a bike it's a different experience.
• A very fun bike for lite trail riding especially if a little sandy, the nice wide tires handle these conditions well.
• Excellent range! It has a 48v/20Ah battery. I'm a large person and I've been on several rides already over 30 miles round trip with plenty of power left on the battery when I was done.
• An excellent price for all the features. Troxus runs sales on there bikes all the time so, you can pick this bike up for an even better deal.
Happy riding!
Lovely bike!
Lovely bike! Recently acquired this ebike, and it's a beauty. The striking red color, excellent quality, and smooth ride make it perfect. Overall, a great bike, and I believe the price was just right for this 8-speed model I chose.
Outstanding bike!
Ideal for my daily 5km city commute—robust, fast, and handles rough roads effortlessly. The only downside is the weight, which can be a bit challenging with stairs. The battery lasts a week, and the lights and horn enhance safety. The quick motor acceleration makes navigating intersections a breeze. I assembled it solo after a careful read of the manual. Highly recommend, with the only minor issue being the weight, but it's not a big problem for commuting purposes.
Absolutely thrilled with my new Troxus ebike!
I've taken it out for a spin only twice since putting it together, but I'm already in love with it. The pedal assist is easy to get used to, and the price-to-quality ratio is outstanding. My husband is seriously considering getting one, and some friends who were initially deterred by the high prices of other ebikes are now looking to make the switch after checking out mine.