Celebrate National Bike Month In May
The feeling of cruising effortlessly down the street, the wind blowing in your face, while passing by the hustle and bustle of the city is truly unbeatable. It's no wonder that riding a bike is a beloved pastime for many. But what if you could take that feeling to the next level? Enter the e-bike. With the added boost of an electric motor, an e-bike offers all the fun and health benefits of traditional cycling, plus the convenience of effortlessly zipping up hills or through headwinds. It's a game-changer that deserves its recognition.
The History of National Bike Month
National Bike Month is an annual celebration in the United States in May. The event is designed to promote bicycling as a healthy, environmentally friendly, and fun mode of transportation. In the United States, a significant portion of trips made are less than two miles. So, bicycling can be a practical and enjoyable means of transportation for these short journeys.
National Bike Month was first established in 1956 by the League of American Bicyclists, a national organization that advocates for bicycling as a means of transportation, recreation, and fitness. The month-long celebration includes various events and activities, such as bike rides, safety workshops, community events, and bike-to-work days. You can see more about it on the official website.
One of the main goals of it is to encourage more people to try bicycling as a means of transportation, especially for commuting to work or school. Bicycling is a great way to reduce traffic congestion, air pollution, and carbon emissions, and it can also help people save money on transportation costs.
During National Bike Month, many cities and towns nationwide hold special events to promote bicycling, such as group rides, bike repair clinics, and safety workshops. Bicycling advocates also use the month to lobby for better bike infrastructure, such as bike lanes and trails, in their communities.
Celebrate National Bike Month
Looking for a new way to celebrate National Bike Month this year? Consider hopping on an e-bike! With the help of a small motor, e-bikes make pedaling a breeze and allow you to cover more ground with less effort. Plus, they're a great way to commute to work, run errands, or explore your city without contributing to air pollution.
Need an e-bike? No problem! Troxus celebrates NATIONAL BIKE MONTH with limited-time discounts from May 6th to May 21st. There is a $300 discount on the SkyHopper and a $200 discount on the Lynx. In addition, you can extra save an extra $300 for any combination of two e-bikes. 
The SkyHopper is a budget-friendly option with excellent features, making it ideal for anyone looking for an affordable Class 2 e-bike. It's sleek in black and boasts a 750W brushless hub motor and 48V 12.8AH Samsung battery, providing a range of 60+ miles on a single charge. It's designed for urban and off-road riding, perfect for longer commutes, grocery runs, or leisurely rides around town. With Tektro mechanical brake levers and seven gears shifters, Skyhopper is easily controlled and maneuverable in various terrains. Click HERE to buy SkyHopper.  
The Lynx is the ultimate commuting electric bike that combines speed and style. If you're tired of being stuck in traffic on your way to work or want to exercise while you commute, this e-bike is the perfect solution.
It boasts a range of 60+ miles on a single charge, ensuring you never have to worry about running out of power while getting around town. But the Lynx is not just about looks; it's also a powerhouse regarding speed and performance. With a top speed of 26 MPH and a 750W Bafang Hub motor, you can easily handle steep hills and long distances. Plus, the 48V 20AH battery ensures you can keep riding all day without stopping and recharging.
To ensure a smooth ride, the Lynx also features an 80mm-travel front shock absorber, which helps smooth out bumps and vibrations on the road. If you need to carry any extra items, the Lynx has you covered with a sturdy rear rack for storage. The wooden board of the back shelf has even withstood the 21-day professional salt spray test, making it practical and reliable. Click HERE to buy Lynx.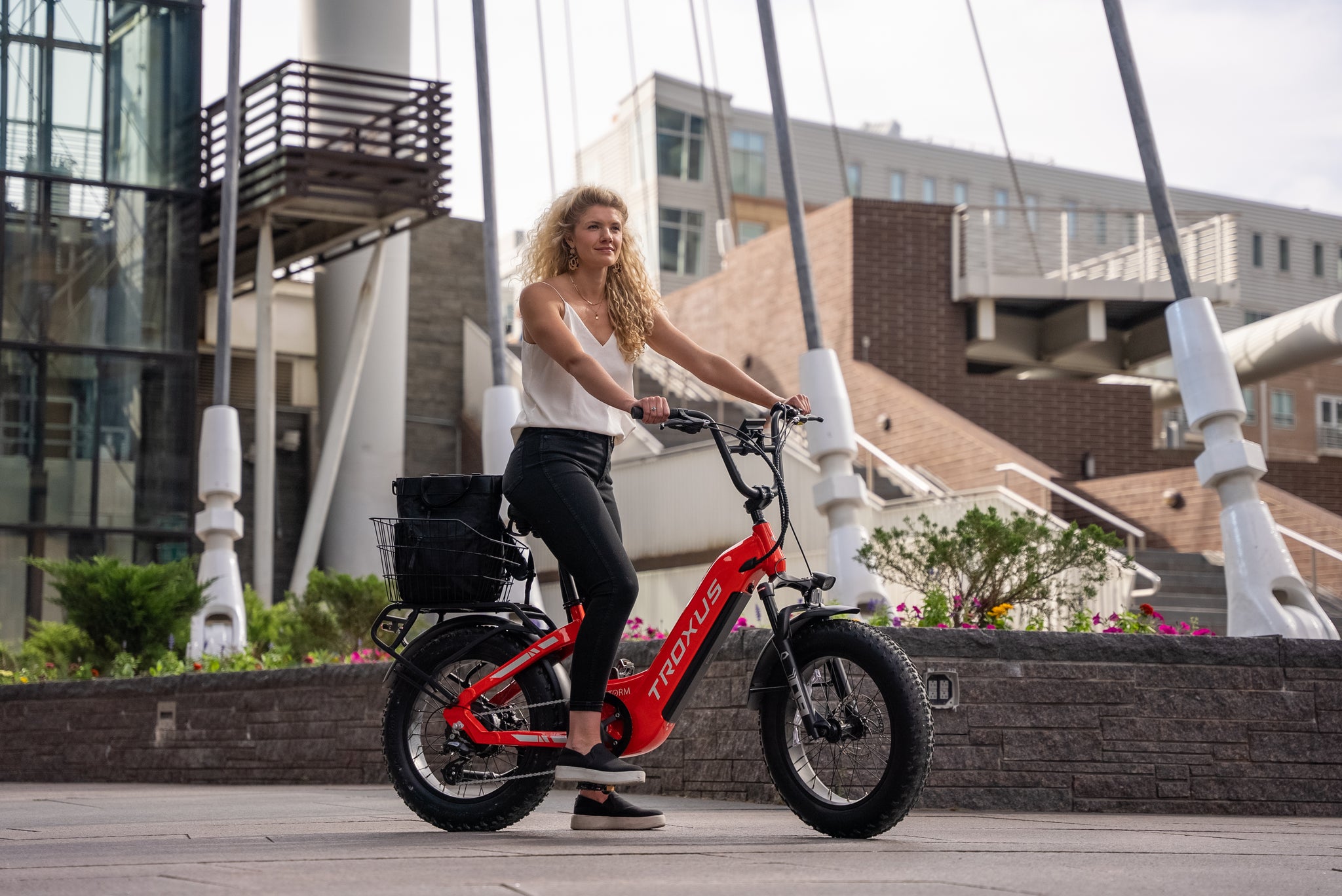 National Bike Month Guide
If you have been a while, do not feel the wind rushing through your hair as you pedal your bike down the road. Don't worry - you're not alone. But now is the perfect time to dust off that trusty two-wheeler and join the National Bike Month festivities. Not only will you be doing your part for the environment, but you'll also be reaping the benefits of a healthier lifestyle. Here are some big ideas for the 31 days of National Bike Month:
Host a bike parade: Organize a bike parade in your community and encourage everyone to decorate their bikes in creative and fun ways.
Go on a group ride: Gather friends or colleagues and plan a bike ride together. Explore new routes and enjoy the scenery.
Bike-to-work day: Encourage your coworkers to bike to work on a specific day and host a breakfast or lunch event to celebrate.
Bike safety workshops: Host bike safety workshops for children and adults to promote safe riding practices.
Bike maintenance clinics: Host bike maintenance clinics to teach people how to care for and repair their bikes.
Family-friendly rides: Organize family-friendly bike rides in your community to encourage families to ride together.
Bike share programs: Advocate for or organize a bike share program in your community to make biking more accessible to everyone.
Community bike events: Host bike events such as bike festivals or races to bring people together and promote biking.
Commuter challenges: Challenge individuals or businesses to bike more often throughout the month to work or bike.
Bike art exhibits: Host bike-themed art exhibits or displays to showcase the beauty and creativity of biking culture.
These are just a few big ideas for National Bike Month. The possibilities are endless. You can see more about it in the official National Bike Month Guide. It lays out 31 big ideas for the 31 days of National Bike Month for you to use.
So this National Bike Month, let's hit the trails and see what adventures await us on our bikes! And see how it can make your ride even more enjoyable. Get creative and have fun!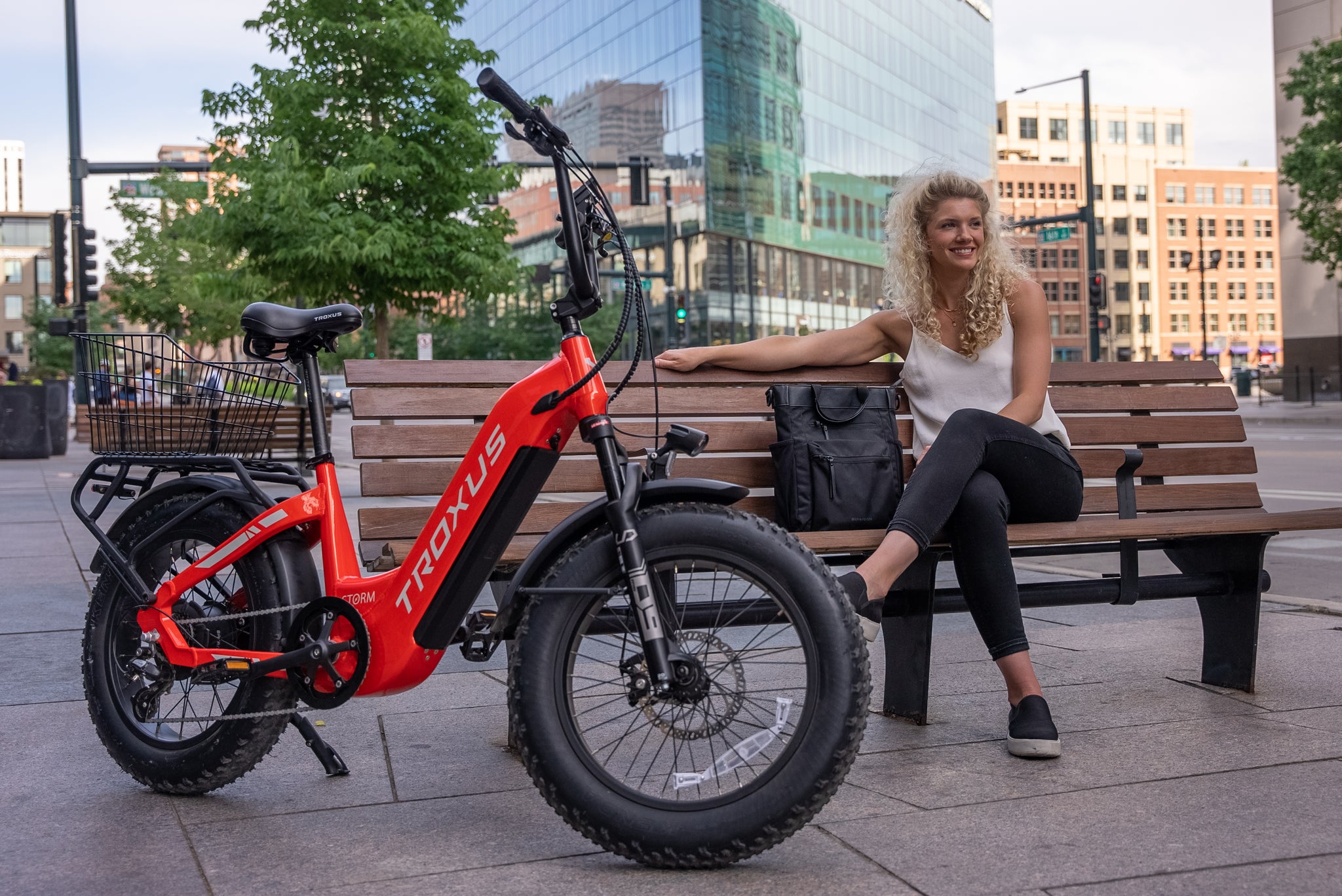 Quick facts Every May

What's the official website?

http://bikeleague.org/bikemonth #BikeMonth #NationalBikeMonth
Related Articles
Are Electric Bike legal in U.S.
Here is why you should ride our small wheel SkyHopper
Introducing Troxus SkyHopper 20" Electric Bike
What makes Troxus SkyHopper more worth buying